Related:
controller
,
DIY
,
harp
,
Jean Michel Jarre
,
laser
,
music
,
random posts
,
Stephen Hobley
,
USB
Posted in
random posts
on Mar 31, 2008 -
0 comments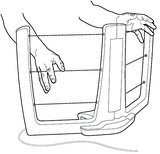 Always wanted to play laser harp like Jean Michel Jarre? You can build your own like Stephen Hobley did, but what if these DIY projects are a little too complicated for you?
The beamz Music Performance System is a laser-based music system similar to a laser harp.
Have you always wished you could play a musical instrument? Dreamed of being a music performer? Or aspired to create original music? Now you can make "music like magic" — with the beamz&trade Music Performance System. This extraordinary invention fuses the interaction of your hands with laser lights to create the sounds of hundreds of different musical instruments. The beamz lets music-lovers be musicians, arrangers and performers of rich, full, dynamic, wonderful-sounding music.
It looks like the software that comes with the beamz is limited to preset songs and sounds, with discordant chords and sour notes have been programmed out (eeks!), but perhaps you can hook the device up to 3rd party software as well.
The beamz Music Performance System features
Extraordinary invention fuses the interaction of your hands with laser beams to create the sounds of hundreds of different instruments.
Breaking the laser beams with your hands automatically generates pre-authored pulses, streams, riffs or loops of musical notes or sounds from a variety of instruments — all kinds of strings, keyboards, winds, percussion. Sophisticated high-fidelity sounds seem to pour off your fingertips like magic!
Choose a complementary rhythm track from 30 original songs in 19 music genres, including jazz, bluegrass, classical, hip-hop, reggae, heavy metal and more.
The beamz system has a "W" shape, with six laser beams spanning the two sections; connect via USB to your PC or laptop, then hook up some speakers and you're ready to perform great-sounding music.
Includes software CDs and USB cable for connecting directly to USB port of your PC or laptop.
The beamz can be ordered for $599.95 USD from The Sharper Image (first shipments arrive April 15, 2008). Not very cheap, but remember that a DIY typical build of a laser harp like Stephen Hobley's could also set you back up to $600.
Thanks for the tip, Frank!