Tank is launching TankBooks, a series of books designed to mimic cigarette packs – the same size, packaged in flip-top cartons with silver foil wrapping and sealed in cellophane.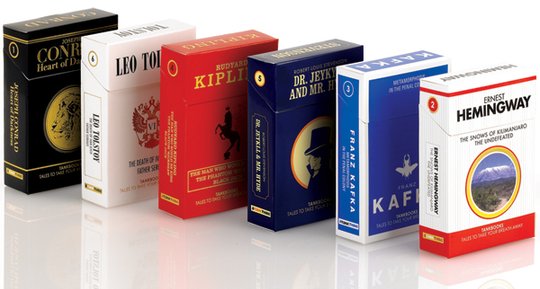 From the TankBooks page:
TankBooks pay homage to this monumentally successful piece of packaging design by employing it in the service of great literature. Cigarette packs are iconic objects, familiar, tried and tested, and over time TankBooks will become iconic objects in their own right.
The launch titles are by authors of great stature – classic stories presented in classic packaging; objects desirable for both their literary merit and their unique design.
Available titles:
Joseph Conrad "Heart of Darkness"
Ernest Hemingway "The Undefeated" and "The Snows of Kilimanjaro"
Franz Kafka "The Metamorphosis" and "In the Penal Colony"
Rudyard Kipling "The Man who would be King", "The Phantom 'Rickshaw" and "Black Jack"
Robert Louis Stevenson "Dr. Jekyll and Mr. Hyde"
Leo Tolstoy "The Death of Ivan Ilych" and "Father Sergius"
Check TankBooks for more information.