The Year of Living Bibically
Kevin Kelly reports about The Year of Living Biblically, a book by A. J. Jacobs, who spent a year trying to follow all 700 plus rules he found in the Bible.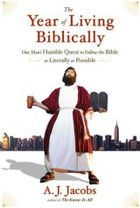 Dave Callanan's review of the book:
Make no mistake: A.J. Jacobs is not a religious man. He describes himself as Jewish "in the same way the Olive Garden is an Italian restaurant." Yet his latest work, The Year of Living Biblically: One Man's Humble Quest to Follow the Bible as Literally as Possible, is an insightful and hilarious journey for readers of all faiths. Though no fatted calves were harmed in the making of this book, Jacobs chronicles 12 months living a remarkably strict Biblical life full of charity, chastity, and facial hair as impressive as anything found in The Lord of the Rings. Through it all, he manages to brilliantly keep things light, while avoiding the sinful eye of judgment.
Read Kevin Kelly's post with some insightful comments to the interview Jacobs did with Newsweek online.
Link via Boing Boing