Togu Audio Line updates TAL-Filter-2 to v1.20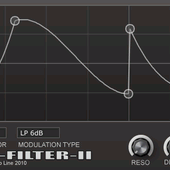 Togu Audio Line has updated TAL-Filter-2, a free filter effect plug-in for Windows and Mac.
TAL-Filter-2 is a host synced filter module with different filter types, panorama and volume modulation possibilities. The device includes all 4x oversampled TAL-NoiseMaker filters: LP 24 dB, LP 18dB, LP 12dB, LP 6dB, HP 12 dB, BP 12dB, N 12 dB. Its possible to saturate / distort the input signal by raising the input volume with the input control (only if you use a filter as modulation type).
Changes in TAL-Filter-2 v1.20
Clicking while host is stopped fixed.
Other small bugfixes in the envelope editor.
Only OSX intel supported.
TAL-Filter-2 is available to download as a freeware effect plug-in for Windows and Mac (VST/AU).
More information: Togu Audio Line / TAL-Filter-2