Tonehammer releases Propanium
Related:
Milltone
,
samples and sound libraries
,
Tonehammer
Posted in
news
on Jan 21, 2009 -
0 comments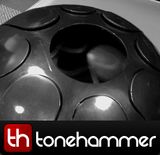 Tonehammer releases Propanium (aka MILLTONE), a highly emotive, metal based, tongue drum.
The drum has certain similarities to the Hang Drum, but is more clean, less "steel-drummy", has more harmonics and overtones. We recorded Propanium in a variety of ways including finger, brushes, mallet articulations and tons of effects. The drum follows our "deep-sampling" methodology and the larger patches generally have approx. 10 velocity layers and 6-8 round robin (repetition) pr. layer, however certain patches (ex. overtone patches) have over 35 velocity layers for maximum playability.
Propanium features
Brush (Nylon) on all 8 notes: 10 velocity layers, 6x round-robin.
Brush FX: Variation of short and longer brush swells.
Finger on all 8 notes: 10 velocity layers, 8x round-robin.
Finger percussion: 18 velocity layers, 4x round-robin.
Mallet: 9 velocity layers, 8x round-robin.
Ambiences MW: 6×6 velocity layers.
Overtones: 8×35 velocity layers.
Overtone flowers: 4×40 velocity layers.
Finger arpeggiator: A variety of dual-tongues arpeggiated.
Random Arp: A variety of dual-tongues arpeggiated & randomized.
Random MW Tuning: A variety of dual-tongues tuned on MW.
Extensive read me install, patch and hint documentation (.pdf).
11 instrument patches, 2224 samples, 1.67 GB installed, 368 MB .rar download.
Sample resolution: 44.1Khz/16Bit stereo .wav format.
Format(s): Kontakt 2 and .wav.
Propanium is available as a Kontakt instrument for $49 USD.
Visit Tonehammer for more information and audio demos.