u-he updates Diva v1.3 beta to Release Candidate r2058
u-he has introduced Release Candidate r2058 of the public beta version 1.3 of Diva, the virtual analog synthesizer instrument for Windows and Mac.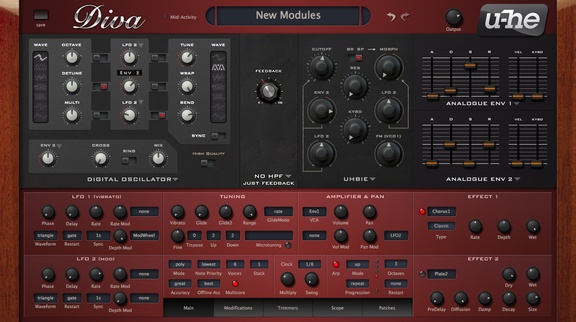 The latest GUI of Diva, including the new digital oscillator and Uhbie filter.
Changes in Diva 1.3 r2058
Fixes timing bug.
Fixes possible crash bug /w 16 voices and osc reset (Digital Osc only).
Adds final gui for new modules (discuss?)
Also adds better BP/BR button for Uhbie filter.
Download the latest beta at Diva2058Win.zip and Diva2058Mac.zip.
Visit the u-he forum at KVR Audio for more details.