Voxengo releases Elephant 4.0 mastering limiter plugin
Voxengo has announced the release of version 4 of Elephant, a mastering limiter effect plugin for Windows and Mac.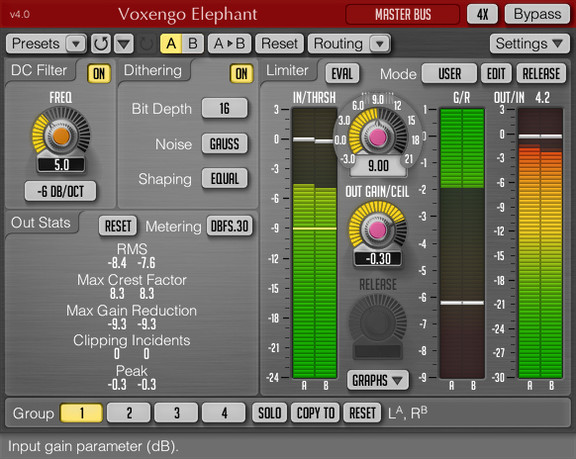 Voxengo Elephant is a mastering limiter plug-in for professional music production applications. The most remarkable feature of this signal limiter is its sonic transparency. Elephant brings sound limiting and loudness maximization without audible "pumping" sonic artifacts.
Changes in Elephant v4.0
Added a new "EL-4" limiter mode, with less harmonic coloration.
Added a new "Dynamic Release Control" limiter stage.
Added a new "Timing" limiter mode parameter.
Added a new "Release to Attack Ratio" limiter mode parameter.
Added a new "Release Shape" limiter mode parameter.
Added input level meter together with the threshold mark.
Implemented the "Eval" limiter's evaluation mode.
Added the "Trans View" transient visualization.
Made the "In Gain" and "Out Gain" knob ranges more practical.
Magnified the "Out Gain" knob's scale around 0 dB.
Made changes to the "Trans Time" parameter stutter-free.
The output statistics are now automatically reset if any parameter that influences the output statistics was changed.
Added "EL-4", "COMPACT" and "EXPANDED" factory limiter modes.
Elephant for Windows and Mac (VST/AU) is available to purchase for the introductory price of $99.95 USD until March 5th, 2014 (regular $119.95 USD). The upgrade from previous versions is $49.95 USD. A 180 day grace period upgrade is available free of charge.