Waldorf updates Lector to v1.0.1 (incl. 64-bit support)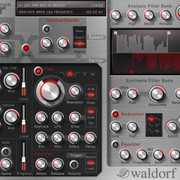 Waldorf has updated Lector, a vocoder effect plug-in for Windows and Mac.
This update is recommended for all users of Lector. It adds full 64 bit compatibility to all its Macintosh and Windows plug-in variants and contains the factory presets in VST3 and Audio Unit format. Furthermore it fixes a possible crash in the Macintosh Audio Unit variant.
Changes in Lector v1.0.1
64 bit compatible.
Added VST3 Presets of all Factory Sounds.
[Mac Audio Unit] Added Audio Unit Settings of all Factory Sounds.
[Mac Audio Unit] Fixed possible crashes in Logic and possibly other Audio Unit hosts.
[Mac Audio Unit] Fixed non-working automation recording.
[Mac] Added "Save Program as Audio Unit Setting…" to VST2 variant.
[Win] Installer now places all files into their default locations. You can move the plug-ins to different directories after successful installation.
Lector for Windows and Mac (VST) is available to purchase for 199 EUR.