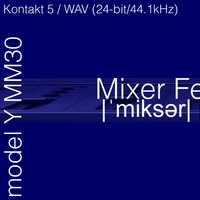 10 Soundware has announced Mixer Feedback model Y MM30 K, a sound set for Native Instruments Kontakt 5.
Designed by Taichi Furudate, these patches are based on audio captured from a no-input mixer, an instrument contrived by connecting the output of an audio mixer with its input to incite feedback. The third in a series of four titles, each centered on a different mixer, this release features a four channel model, circa 1980's, by a Japanese manufacturer.

The timbres generated by the mixer used in Mixer Feedback model Y MM30 K can be described as "smooth, clean and glossy", according to Taichi Furudate. He also adds that the direct outputs, which are unaffected by the master section graphic equalizer, allow for complex routings, highlighting its suitability as a no-input mixer. Another feature of this particular model is an onboard echo effects unit the manufacturer peculiarly refers to as the "Bucket Brigade Delay" ("BBD"), the sound of which he characterizes as "retro and lofi like early tape music". Its plastic casing and its light weight, as well as the fact that it was purchased for 500 Japanese yen (roughly $6) in 2010, coupled with its set of features and "smooth, clean and glossy" sound may indicate that the model was presumably inexpensive, yet offered desirable value for the money in its time.

The 41.5 MB download includes 50 .nki files and 160 WAV files (24-bit/44.1 kHz).
The sound library is available to purchase for $29.99 USD.
Visit 10 Soundware for more information.