100 Akres has announced Deebox Chopra, a new sample library in Native Instruments Kontakt and Wav formats.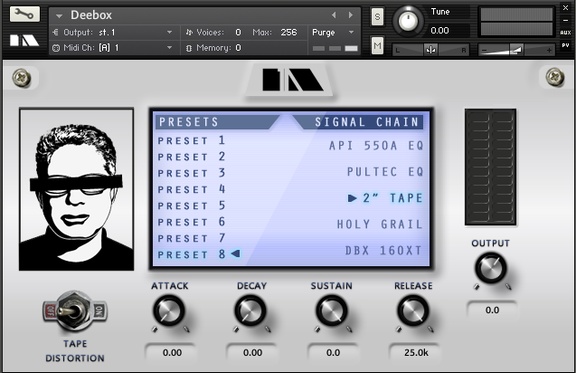 Deebox Chopra is a drum rompler which features drum sounds from an iconic 80s drum machine run through a series of high quality analog outboard gear to 2″ tape to add a bit of "hiss" and extra warmth.

The easy to use LCD interface allows you to choose between eight signal chains that were pre-tweaked by our engineer to bring out different tones of the recorded electronic drum kit. These presets range from clean with low hiss to gritty tape distortion with a flick of the tape distortion switch.
Deebox Chopra features
49 drum sounds, 8 different signal chains.
Recording chain used includes: 2″ tape machine, DBX 160xt , API 550 eq, Pultec eq, and a Holy Grail pedal.
Attack, Decay, Sustain, and Release knobs available for further drum tweaking (Kontakt version only).
Tape distortion switch for extra crunch added to the drum sounds (Kontakt version only).
The library is available to purchase for $19 USD (Kontakt) / $14 USD (Wav).
100 Akres is also offering a President's day discount, valid from until February 21st, 2014. Use coupon code obamatootrill to get a $3 discount off of the total order valid on all products.
More information: 100 Akres