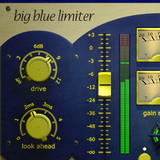 112dB has announced Big Blue Limiter, a limiter effect plug-in.
Big Blue Limiter is a character limiter. It is neither transparent nor intended to be. In fact it adds a little mojo to everything you run through it, if desired even when no limiting is taking place.

Big Blue Limiter uses analog tube modelling in its limiting circuitry, which makes any limited warmer and fatter by adding a pleasing amount of coloration. And as if that weren't enough it also features an independent preamp that just loves to be overdriven. Whenever your material lacks character or oomph you will find that Big Blue Limiter is exactly what it takes.

With its versatile sound, intuitive interface, easy operation, and negligible CPU load Big Blue Limiter feels equally at home during a mix session and a mastering session. Hearing is believing!

Big Blue Limiter will be released… soon!
More information: 112dB / Big Blue Limiter