112dB has announced the release of its new Mikron series chorus audio effect plugin for Windows and Mac.
Mikron Chorus was inspired by the Juno chorus, the chorus effect found in the Roland Juno synthesizer as well as the Boss/Roland chorus pedals from the 70/80s.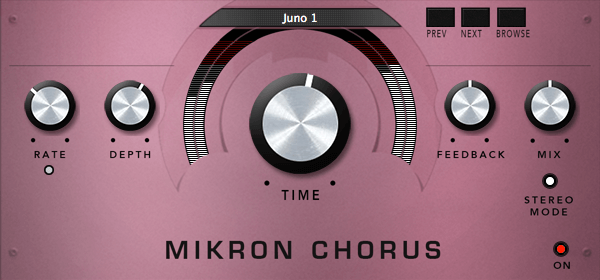 It has the same signal routing as the Roland/Boss CE2, and the spectral characteristics of its bucket brigade delay chips, but without the noise that always accompanies bucket brigade delays.

Mikron Chorus has the same ease of use as the pedals it was inspired by, with just a few handy extra features. Where the CE2 only had adjustable rate and depth. Mikron Chorus adds adjustable delay time, feedback and mix. This gives you not only more flexibility, but makes it also possible to use Mikron Chorus as a flanger by dialling in shorter delay times, and adding feedback. Last, but not least there is the stereo mode that you can use to give the chorus extra spaciousness.
Mikron Chorus (VST/AU/AAX) is now available for an introductory price of $29 USD through July 31st, 2020 (regular $39 USD).
Also available, the Mikron Bundle comprises all Mikron products: Mikron Reverb, Mikron Cascade, Mikron Delay, Mikron Phaser, Mikron Orbiter, Mikron Crusher and Mikron Chorus. It is available for $159 USD and current owners of Mikron plugins who upgrade to the Mikron Bundle are eligible to receive a discounted upgrade price until August 31st, 2020.
An unrestricted 60-day evaluation version of Mikron Chorus and Mikron Bundle are available.
More information: 112dB