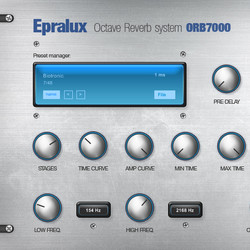 123creative has announced the release of Epralux ORB7000, an octave reverb system plug-in for Windows.
Epralux ORB7000 – is not classic reverb simulation of real acoustic space. ORB7000 is special, artistic and creative octave / pitch-shifting reverb system for creating special sound and space effects, new sound colors and unique experimental sounds.

Main feature that makes ORB7000 different is special particle based pitch-shifting unit that splits reverbed signal to 3 sub-signals: octave down, normal, octave up. Then sound is split for very small time sequences (in milliseconds), octave down circuit play sound de-tuned -1 octave while octave-up circuit plays sound one octave +1 pitch shifted. This create really unique sound effects (to hear this effect best try ORB7000 with melodical sund samples like guitar, piano, synthesizer or human voice).

ORB7000 is usable in any musical style from classic pop, rock to more experimental styles like ambient music, cinematic music or electronic dance music.
Epralux ORB7000 features
Reverb unit with parameters: pre-delay, room size, damp, width, dry-wet, stages, time curve, amp curve, min time, max time, low freqency, high. freqency, sync, pre-delay, invert amp.
Particle pitch-shifting / detuning / octave unit: octave down, normal, octave up.
Preset manager with 48 built-in presets.
The effect plug-in is available for Windows (VST) for purchase for 17.45 EUR.
More information: 123Creative / Epralux ORB7000