123Creative has announced it is offering the Transhaper X3 VST plugin and a FX Sample Pack as a free bonus with the purchase of the Mixcraft 8 DAW software by Acoustica.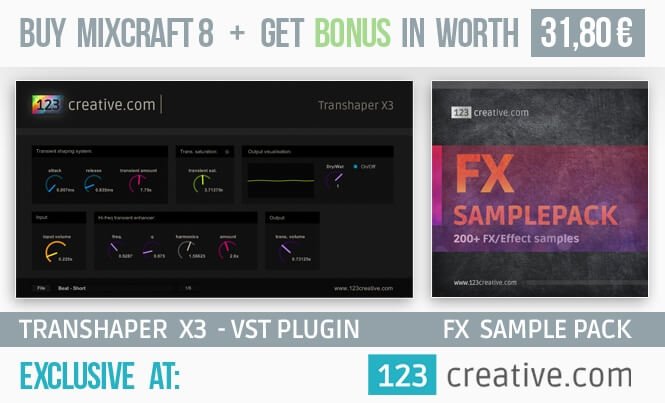 This digital audio wokstation software is available in 2 versions: Mixcraft 8 Recording studio and Mixcraft 8 Pro studio. If you are bedroom producer or professional, Mixcraft is suitable for everyone and for all electronic music genres.

– Mixcraft 8 Recording Studio is complete "recording-studio-in-a-box" with unlimited MIDI and audio tracks. 28 pro audio effects, and 15 virtual instruments, including the super easy-to-use Alpha and Omni Sampler instruments.

– Mixcraft 8 Pro studio is complete music production DAW with a lot of plug-ins, 56 pro audio effects and 21 virtual instruments, including the superlative Pianissimo Grand Piano and Celemony's Melodyne Essentials, Mixcraft 8 Pro Studio offers unparalleled mixing and mastering power.
123Creative offers the Transhaper X3 transient boost effect plugin and a collection of 200+ FX samples/sound effects for any dance music creation with a purchase of Mixcraft 8.
More information: 123Creative / Mixcraft 8