8Dio is back with another release in its Piano Legacy Series. The 1971 Estonia Grand Piano features the sounds of a deep-sampled soviet-era grand piano, with a uniquely dark, emotional and melancholic characteristic.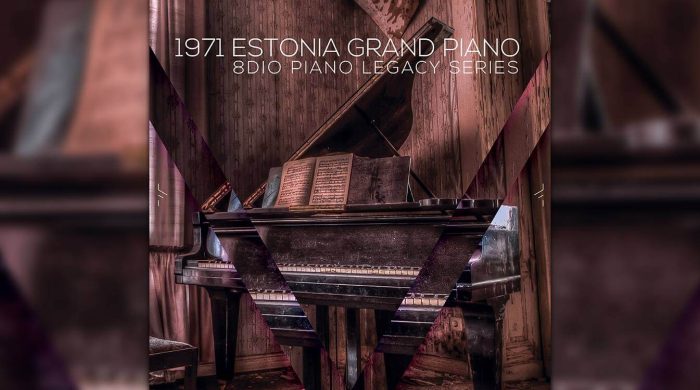 The 8Dio Estonia Grand Piano contains over 33.000 samples and 6 truly vintage microphone positions. The library was recorded with up to 20 velocity layers – offering you a completely seamless and expressive experience across your keys. You will not notice these are samples, but rather a real instrument at your finger tips. Full of life, personality, natural resonance and harmonics.

The Estonia Grand contains core both Sustains, Staccato and Plucked articulations, which can seamless be tailored together based on your compositional needs. The short note staccatos were recorded with 5 RR pr. velocity layer – offering you the ability to play incredibly fast licks with clear definition on the attack of the sound. This feels and plays completely realistically. The 8Dio 1971 Estonia Grand Piano also contains our latest Chaos FX designed for sound design. We included many of our new custom Textural Convolution Delays, which gives the instrument the ability to delay textures from other non-piano sound sources.

We recorded and processed the Estonia Grand at 24-Bit / 96Khz at a meticulously run soviet era scoring stage, before down sampling to 48k for ease of streaming. Using only the best microphones available we captured this smooth and mellow instrument. The library contains 6 different types of vintage microphone stems. The microphones includes Neumann UM57's, Vintage Lomo's, Sennheiser MKH40's, Aston Spirits, Neumann KM 184's and a over mixed microphone position, which was made by combining all microphones used in the sessions. Leaving you with the best microphones right at your finger tips. The Estonia Grand was recorded with a 100% analogue signal flow, leaving you with an expressive and unique instrument.

The 8Dio Estonia Grand Piano is a labour of love. Recorded through true analog vintage equipment and with 6 independent microphones positions. Encapsulating the deeper spirit of the instrument. 33,000 samples, up to 20 velocity layers and a virtual instrument that feels so close to a real piano.
1971 Estonia Grand Piano features
33,870 Samples 11.8GB HDD (compressed from 24 GB).
6 Microphones (incl. Neumann UM 57,Neumann KM 184's, Sennheiser MKH 40's, etc).
Up to 20 Velocity Layers.
5 Round Robin Repetitions.
Intuitive and Advanced Interface.
Advanced Chaos Effects Systems.
The Estonia Grand Piano is on sale for $139 USD until April 22nd (regular $199 USD). Requires Kontakt 5.5 or later (full version).
More information: 8Dio Productions / 1971 Estonia Grand Piano