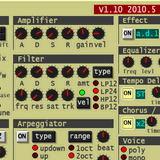 Ichiro Toda has released version 1.10 of Synth1, a free synthesizer instrument plug-in for Windows.
The version history for v1.10 shows some more improvements and fixes.
Changes in Synth1 v1.10
The switch which chose the right or wrong of the patch choice from the vst host GUI was added to an optional dialogue.

The phenomenon that patch choice mechanism of the vst host side became unstable in occurred frequently. It is the result that expanded the number of the banks to 100. The switch is a thing to avoid this phenomenon.
When this switch is on, tone choice is possibility from the vst host GUI; (as before). However, depending on the vst host, a patch is not chosen, and there is a thing kept waiting for several seconds.
When this switch is off, you cannot choose a patch from vst host GUI. However, the trouble mentioned above does not occur.
It is by default off.

BugFix

The problem that pingpong delay did not become effective.
The problem that failed in the conversion of the patch of Synth1 of the old version.
The problem that a patch name did not synchronize with a VST host between Synth1 well.
When did over of a mouse in voice status; the problem that mouse shape became the hand shape.
Synth1 is available to download as a freeware VST instrument plug-in for Windows PC.
More information: Ichiro Toda / Synth1