2CAudio has announced the launch of the End Of Summer Sale, offering discounts of up to 40% off on its products.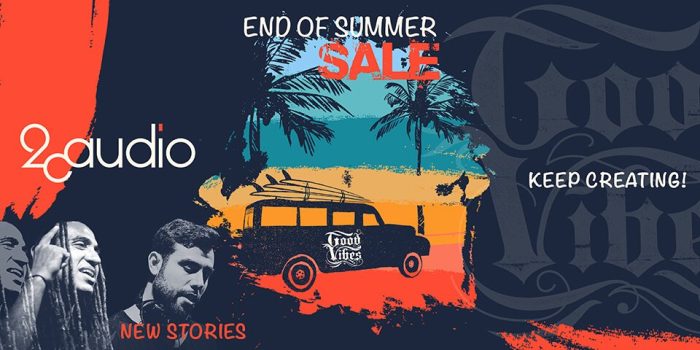 We hope you are doing as well as possible during these trying times. As creatives ourselves we are privileged to develop tools to help other creatives like you express yourself. Sometimes that expression may reflect the chaos of the moment, or alternatively it may be a nostalgic call back to more simple times. The most powerful musical creativity can even inspire us to dream of a better future and help people come together to get through complex challenges. Sometimes we all just need some good vibes to stay positive through tough seasons. We don't always know what the immediate future holds in store, but we always do our best to make the best tools we can to help you inspire the world with your amazing gifts and talents.

We've been using this time to do what we are good at and contribute as we can to help us all rebuild, reconstruct, and reconnect. We know you are doing the same. We have some amazing things to share with all of you shortly. Meanwhile we are making our products more accessible than ever to help everyone keep creating. Please don't ever stop. The world needs your story!
The End of Summer Sale Limited-time includes:
Precedence 1.5: $99.95 USD.
Breeze 2.5: $99.95 USD.
PBJ Pack: $199.95 USD.
Aether: $149.95 USD.
B2: $149.95 USD.
Kaleidoscope: $149.95 USD.
The Perfect Storm 3.5: $349.95 USD.
Everything: $449.95 USD.
This promotion will be active through September 2020.
More information: 2CAudio