2getheraudio has announced availability of its Cheeze Machine PRO, an expanded version of its popular Cheeze Machine 2 virtual instrument.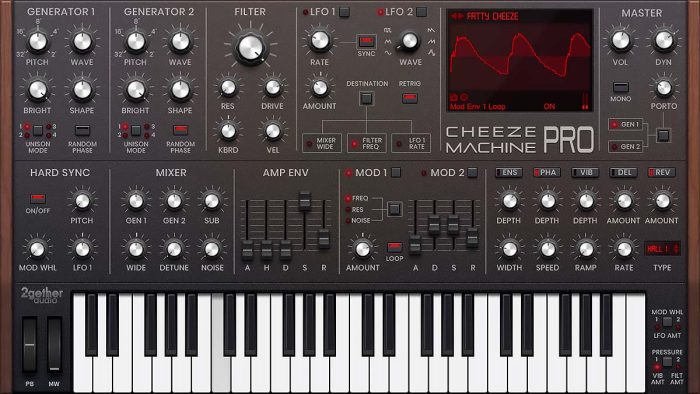 The new PRO version includes a wealth of new features and sounds for sound designers, musicians, composers and producers of all styles of music.
The original Cheeze Machine virtual instrument was developed by Patrice Tarabbia of Big Tick Audio and quickly went viral due to its great sound, ease of use, and low CPU load. The new Cheeze Machine PRO was co-developed with Mr. Tarabbia, now the lead developer at 2getheraudio, and Jennifer Hruska, well-known sound designer and CEO at 2getheraudio. "We're really excited about Cheeze Machine PRO", stated Jennifer Hruska. "Our goal was to add another layer of sound design functionality, this time inspired by some of the new Moog synthesizers, while maintaining a single screen, easy to use, interface. The result is a great sounding subtractive synth that's really fun and inspiring to work with."

Cheeze Machine PRO's oscillator section brings the power and warmth of hardware vintage string machines back, with options for adding a sub oscillator, noise, and hard sync control. The modulator section has been greatly enhanced with two LFOs and two looping ADSRs capable of modulating several pitch, filter, amplitude, panning and hard sync parameters. Additional performance controls were also added for monophonic and portamento playing as well as modwheel and mono pressure performance control. The effects section has been upgraded to include 5 vintage and modern effects, including a beautiful convolution reverb. Not surprisingly, all these options give rise to an endless variety of both vintage and modern sounds. 100 sounds are included with Cheeze Machine PRO and the instrument is capable of expansion packs of new sounds which will be released in upcoming months.

Cheeze Machine PRO utilizes the Qubiq Audio struQture audio engine, a software platform that builds virtual instruments and effects plugins and features a fully modular architecture for combining multiple synthesis methods (sample playback, virtual analog, FM, additive and others), modulators, effects and players like arpeggiators. The struQture audio engine is used in plugins from Akai Professional, NOS Audio, Sonivox and others and is built and maintained by 2getheraudio engineers.
Cheeze Machine PRO features
Virtual analog synthesizer with Moog-style features and interface.
150+ fully editable instrument sounds.
Powerful yet easy-to-use interface for quick, fun sound design.
Dual mode visual display (waveform and spectrum views).
Includes VST, AU, AAX and Standalone plugin formats for compatibility with all DAWs.
Powerful struQture synth engine delivers synth strings, basses, leads, stabs, pads, effects and a whole lot more.
Perfect for EDM, Hip Hop, Pop, Reggae, Film/TV/Game and other music styles.
Cheeze Machine PRO is sold under 2getheraudio's Pay-What-You-Want (minimum $10 USD) business model where 10% can go to a charity of your choice. A free trial is available on the 2getheraudio website.
More information: 2getheraudio