2getheraudio has released G8TOR, a virtual synthesizer instrument built around three step sequencers, eight trigger pad FX and built-in effects.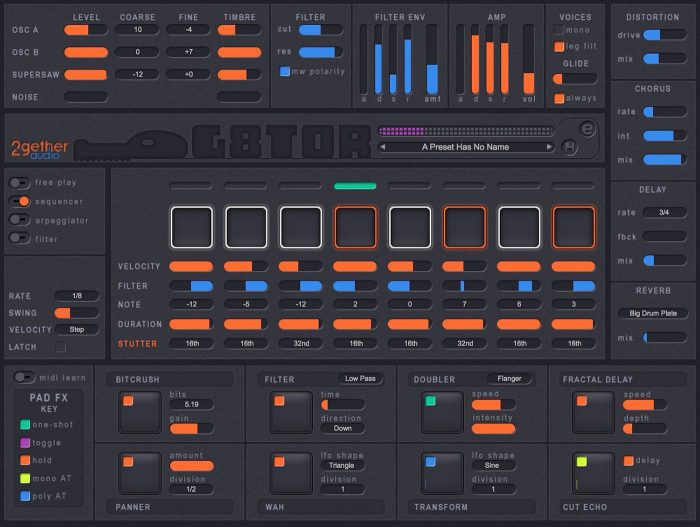 Creating engaging rhythm and motion in your music doesn't have to be an all day affair. G8TOR gives you three magical bullets to speed up the process. First up is an Arpeggiator with per-step control over velocity, filter, duration and stutter! With this many options for animating your chords you'll never run out of ideas again.

Second up is an 8 step Note Sequencer for punchy beats, base lines, or animated background tracks. Customize your musical patterns with individual step control over the pitch, velocity, filter frequency, note duration, and stutter timing. Turn steps on or off, add some swing and customize the speed of the sequence to your DAW. If you want to go beyond what your fingers can play on their own, this is place to head to.

And finally 2getheraudio's unique 8 step Filter Sequencer animates its resonant filter in perfect time with your music. Like the arpeggiator, just play your chord progression and let G8TOR synchronize your filter movement in perfect time with your DAW tempo. Forget hours of DAW automation programming, G8TOR's filter sequencer will get you there in minutes.
G8TOR features
Sequencer Synthesizer with Pad FX Control.
Perfect for adding emotion and drive to melodic lines and chords.
DJ Style Effects Pads let you play your audio effects in real-time with the music.
Over 100 factory presets, sequencer and arpeggiator patterns to get you making music fast.
Three fully programmable sequencers (arpeggiator, step sequencer, filter sequencer).
8 Playable Pad Effects include Bit Crush, Filter, Mod, Fractal Delay, Pan, Wah, Transform & Cut Echo.
2 Tarabbia VA Oscillators, a noise circuit and a killer Super Saw oscillator.
Butterworth filter, control envelopes, mono mode, built-in distortion, reverb, chorus and delay.
G8TOR is available as a "name your price" download (minimum of $49 USD) in VST, AU and AAX plugin formats.
2getheraudio has also released Cheeze Machine 2, a major update to the free string synth instrument previously released by Big Tick Audio.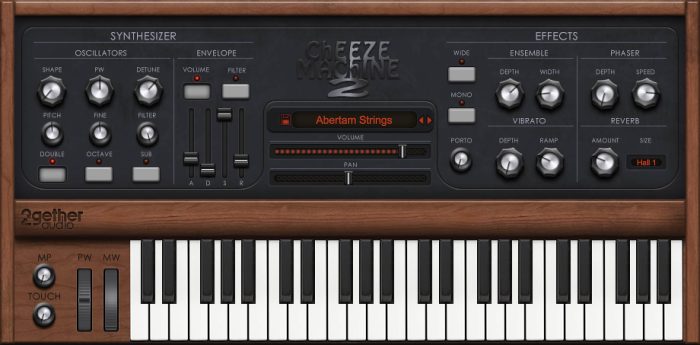 Back by popular demand comes a remastered version of the extremely popular Cheeze Machine virtual instrument by Big Tick Audio. An extra cheesy, extra saucy string box in the style of the original vintage string machines. Cheeze Machine 2 includes an expanded oscillator section, convolution reverb, a vintage ensemble chorus, and 64 bit compatibility for VST, AU, AAX and Standalone applications.

Also included, bonus preview presets for Cheeze Machine Pro, an upcoming release with additional filters, pitch envelopes and performance controls.
Cheeze Machine 2 features
Vintage String Box virtual instrument plugin.
Two virtual analog oscillators plus a sub oscillator for super thick sounds.
Vintage Ensemble, Phaser and Modulation Effects.
Over 60 strings, brass, bass, pads and keyboard sounds.
Super simple interface for quick intuitive editing.
Ultra CPU and memory efficient.
Cheeze Machine 2 is a free download for Windows and Mac.
More information: 2getheraudio