2getheraudio has announced the immediate availability of RE4ORM and RE4ORM FX, two new software plugins under an industry-first model where customers pay what they want and half of the purchase price is donated to a charity or cause of their choice.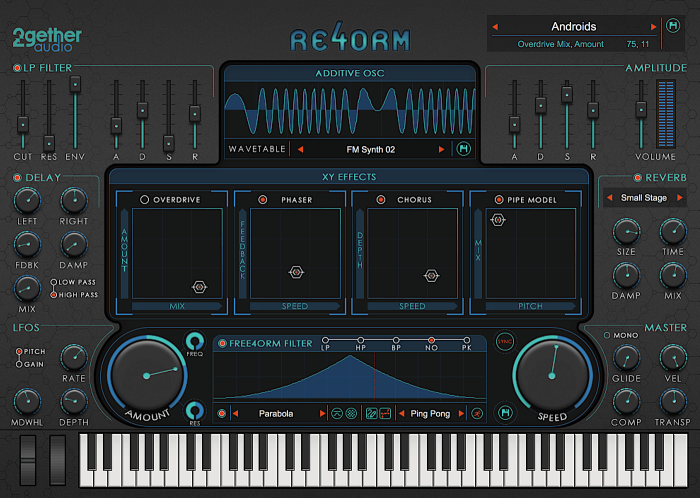 The company's mission is to bring more music into the world by empowering musicians to express themselves, and at the same time, help others in need. Allowing customers to select their own price and social cause allows everyone to get professional music making software, make more music, and participate in the act of giving back to the world.
"The idea stemmed from us wanting to build new state-of-the-art plugins and get them into as many musician's hands as we could, but also wanting to join the growing movement where individuals and businesses, not governments, are helping to solve today's social challenges", says Jennifer Hruska, CEO of 2getheraudio, "Musicians and artists have always been at the forefront of social justice and change so this seemed like a perfect way to let everyone in our music technology community get new plugins and help others at the same time."
The first two plugins from 2getheraudio, available now, are RE4ORM, a Free4orm Additive Synthesizer virtual instrument, and RE4ORM FX, an Audio Shape Remixer effects plugin. Both plugins bring an exciting new way to create sounds by drawing or warping waveform shapes with your mouse, an intuitive and easy approach with amazing sonic results.
In RE4ORM, users can draw and warp the shape of both the additive synth waveform and a multi-filter modulation LFO called the Free4orm Filter. In RE4ORM FX, users have access to eight Free4orm LFOs for modulating 20 different included audio effects. The Free4orm LFO is a much more creative way to add automation to your plugins.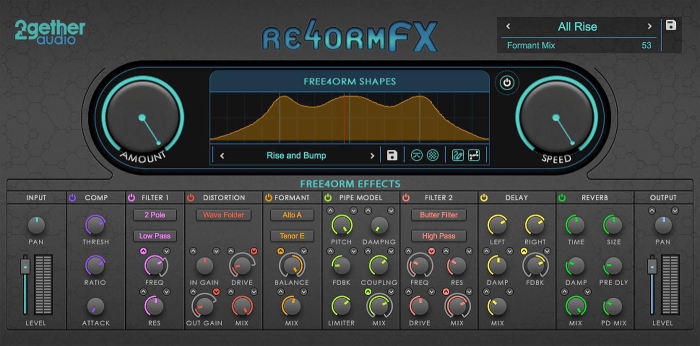 Even better, the factory included Free4orm shapes such as Fractals, Skyline, Crystals and Pulses are all synchronized to the DAW tempo with user selectable speeds leading to experimentation and sonic results you just can't get any other way. Of course, users can create and save their own Free4orm shapes leading to endless possibilities for custom sound design.
RE4ORM and RE4ORM FX utilize the Qubiq Audio struQture audio engine, a software platform that builds virtual instruments and effects plugins and features a fully modular architecture for combining multiple synthesis methods (sample playback, virtual analog, FM, additive and others), modulators, effects and players like arpeggiators. The struQture audio engine is used in plugins from Akai Professional, NOS Audio, Sonivox and others and is built and maintained by 2getheraudio engineers.
The plugins are available for Windows and Mac in VST, AU and AAX plugin formats.
More information: 2getheraudio