2getheraudio has announced the release of an expansion pack by Adam Pietruszko featuring sounds and sequencer patterns for the G8TOR virtual instrument.
Retro Rider includes 64 presets aimed at synthwave, retrowave and futuresynth music styles, inspired by many 1980s films, video games and music by Tangerine Dream, Vangelis and John Carpenter.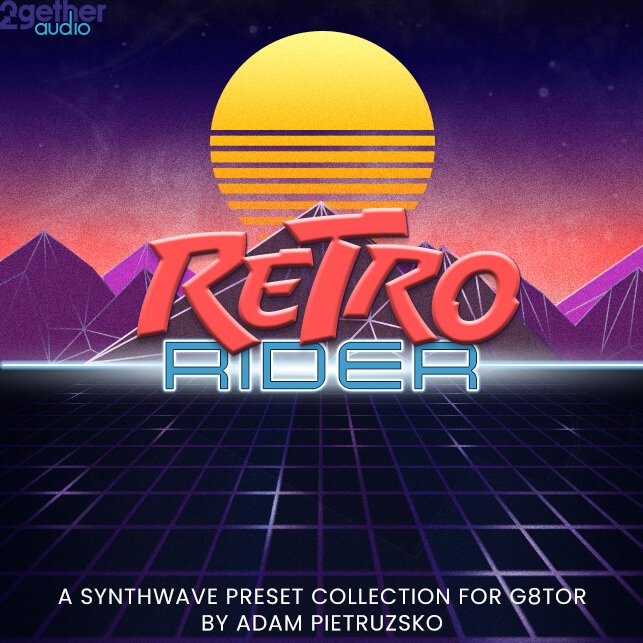 Retro Rider faithfully reproduces the sonic spirit of this genre and has something for all music production styles with its rich collection of basses, keys, risers, leads, brass, pads and effects. Also included are additional sequencer and arpeggiator patterns which give these sounds even more versatility.
G8TOR, a sequencer synth virtual instrument released earlier this year, is designed to add eMotion (motion and emotion) to your music tracks using a fun and intuitive workflow. Rather than spending hours with automation lanes in your DAW, G8TOR gives you three step sequencers and DJ-style pad triggered effects for manipulating the sequences while they're playing. The result is highly creative musical lines with lots of motion and emotion while having fun and staying in a creative flow.
"G8TOR has a way of opening up a lot of new musical ideas with very little effort", stated Adam Pietruszko, sound designer for 2getheraudio. "It's really important to be able to stay in a creative state of mind when working with technology and G8TOR allows for that to happen. The Retro Rider expansion pack adds to the fun with even more sounds and patterns to play with."
Retro Rider is available at a Pay-What-You-Want price (minimum $10 USD).
More information: 2getheraudio