2getheraudio has announced the release of ST3REO, an audio effects plugin for enhancing the stereo image and thickness of mono or stereo audio tracks.
Like the name suggests, ST3REO offers music producers a powerful but simple-to-use software tool for sweetening music tracks, stems, loops or even full music mixes in the stereo field.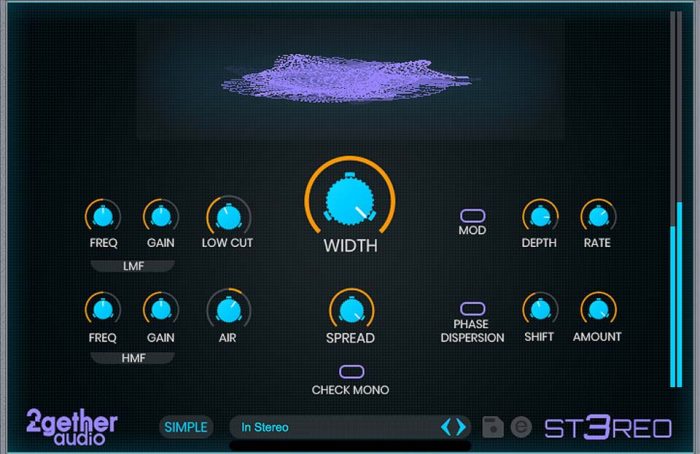 More than just a widener, ST3REO offers options for frequency control and modulation of the enhanced signal and works on both mono or stereo audio tracks. A second layer of widening is also possible via the Phase Dispersion Circuit, with adjustable phase shift and depth of the effect.
"This plugin is really great.", stated Dave Hillis, multi-platinum record producer and engineer for Alice In Chains, Pearl Jam and others. "It can thicken any track I throw at it and I love how it adds a rich and smooth analog color to the sound. This is a must-have tool for my production work."
Prog and metal rockers will love ST3REO's ability to create the classic guitar wall-of-sound while producers of all music styles will appreciate ST3REO's versatility for creating more subtle enhancements. ST3REO's meticulously engineered software circuits let you place, widen and even pitch modulate (chorus/flange/vibrato) any incoming mono or stereo audio source, including synths, vocals, guitars, drums and special effects.
ST3REO features
An advanced widening tool with with simple and expert editing options.
50 presets designed as starting points for processing various instruments and sound sources.
Double widening algorithm with time spread and phase dispersion circuits.
Dual Layer (mono+stereo) Mod Circuit for chorus/flange/vibrato effects. Effect retained in Mono.
Includes 64-bit VST, AU and AAX effects plugins for compatibility with all DAWs.
Perfect mono compatibility.
Low Cut filter for keeping the bass in mono.
Air control for manipulating the brightness of the widening effect.
2-point mid EQ for fine tuning the widening signal.
Check Mono Button for quick mono preview.
ST3REO is released under 2getheraudio's Pay-What-You-Want (minimum $10 USD) business model. A free trial is available for download.
More information: 2getheraudio