2getheraudio has announced that it has rebalanced its unique business model where customers 'pay-what-they-want' and part of the purchase price goes to a charity of their choice.
The new model will reduce the minimum price requirement to $10 USD for all paid products. Customers may still choose a charity to give to for each purchase. The new charity percentage will be 10%.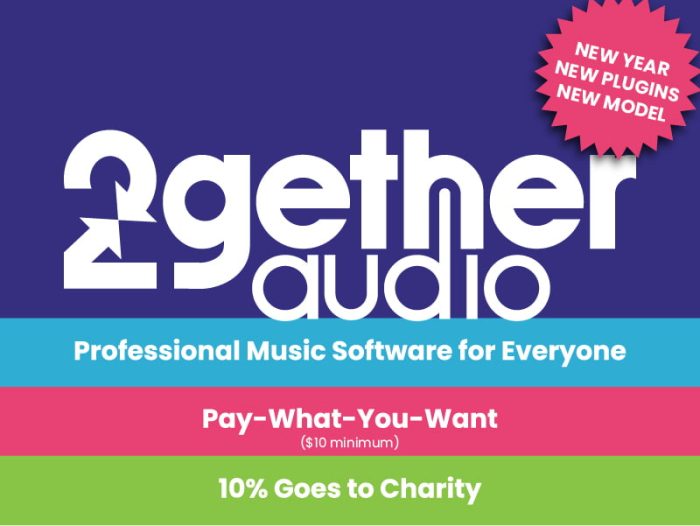 The company will also be releasing more free plugins to the community to bring more attention to the brand and its mission to make professional software available to everyone while helping to make the world a better place. The new model is in response to customers requesting lower minimum pricing yet still wanting to give something to charity.
"This is uncharted territory", stated Jennifer Hruska, CEO of 2getheraudio. "We're searching for the right balance between making our software inexpensive enough for everybody to get it, giving to charity, and still making enough money to allow us to keep developing new products. It's quite tricky! The great thing is that customers have been reaching out to us to tell us what they think the right balance is. This new model is in large part based on that feedback."
2getheraudio makes virtual instruments and effects for musicians, producers, and others making music using their computers. Its virtual instruments include the RE4ORM freedraw additive synthesizer, G8TOR sequencer synth with live action pad effects and Cheeze Machine 2, a free synth string machine. Its effects include the RE4ORM FX freedraw audio manipulator.
The company also produces add-on expansion packs for its virtual instruments.
More information: 2getheraudio