2getheraudio has announced the release of V1nylla, an audio plugin which brings the vintage sound of vinyl to any of your audio tracks or mixes.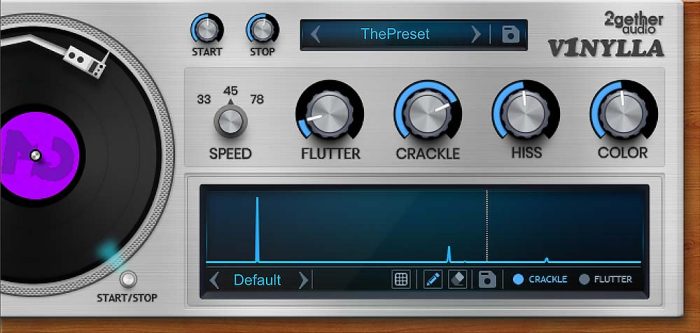 Vinyl. Even that word conjures up the sweet warm days of analog. And like all things vintage, if you want the full experience you need to include the characteristic artifacts.

In the case of vinyl records it's the scratches, hiss, and change of pitch when you stop and start the record with your hands. You'll find all this, and more, in V1NYLLA.
V1nylla features
Vinyl simulator that makes any digital audio sound like it's played from a record player.
Authentic record scratches and flutter control.
Classic record start and stop (pitch and time) sound control.
Unique feature allows you to draw your flutter and scratch effects using your mouse.
Includes VST, AU, AAX plugin formats for compatibility with all DAWs.
Works on any digital audio track or master mix.
Simple intuitive user interface.
Fully automatable.
V1nylla is available for as low as $10 USD as part of 2gethaudio's Pay-What-You-Want model.
More information: 2getheraudio