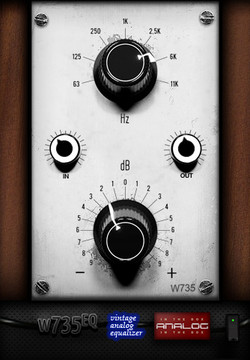 VST Buzz has launched a limited time discount on the W735 EQ, a rare vintage analogue equalizer effect plug-in for Windows and Mac.
Add a touch of analogue sound to your tracks! The W735 EQ is a 7 Band graphic EQ plugin that allows you to boost or cut the following frequencies: 63Hz, 125Hz, 250Hz, 1kHz, 2.5kHz, 6kHz and 11kHz. It's based on the very rare W735/1 equalizer which was designed and manufactured by the RFZ. Only a few of them ever were built and even less of them survived the post berlin-wall-time.

The original hardware unit has now been converted to a plugin allowing you to use it as much as you want on projects! No need for the 1000th emulation of all the other big name equalizers – this is the big daddy of analogue EQs! Perfect for boosting bass (solid, warm low end), mid cutting (getting rid of "nasal" frequencies), or adding high end presence (air and a natural sound), this is a beautiful sounding plugin to add to your toolbox!
W735 EQ is available at a 30% discount from VST Buzz until June 24th, 2014.
More information: VST Buzz