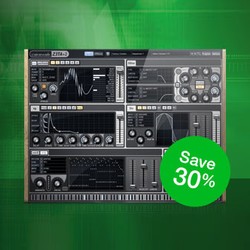 Cakewalk has announced a limited time sale on the Z3TA+ 2 software synthesizer for Windows and Mac.
Z3TA+ 2 has been making a lot of noise lately and continues to be a favorite with critics and users all over the world. If you haven't tried Z3TA+ 2 yet, you are missing out on one of the greatest synths of all-time. MusicRadar.com did a round-up of the 39 best plug-in synths in the world and Z3TA+ 2 came in at #13.

Now through June 30th, we are sweetening the deal even more for Rapture, Dimension, and Studio Instruments users. Regularly $99, you can download Z3TA+ 2 today for only $69/£55/€69 – get 30% off the price.
The sale ends June 30th, 2013.
More information: Cakewalk