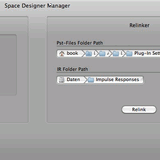 3R Audio has released version 1.5 of Space Designer Manager, a tool for the Apple Logic Space Designer impulse reverb.
This is a major update as Space Designer Manager now supports multichannel impulse responses like Truestereo, Quadrophonic, B-Format and Surround. Furthermore the user can now select the paths to the generation folder and to the folder for generated SDIR multichannel impulse responses.
Space Designer Manager features
Batchgenerates pst-settings in seconds.
Relinks settings with their impulse responses.
Works with mono, stereo, truestereo, surround.
Important parameters like dry and wet adjustable.
Saves your time by doing the boring work.
Space Designer Manager for Apple Logic Pro is available to purchase for the introductory price of 29 EUR until January 1, 2011.
More information: 3R Audio