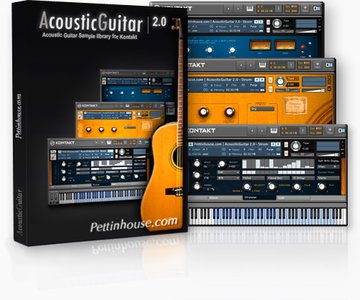 VST Buzz has launched a limited time discount on the Pettinhouse Acoustic Guitar virtual instrument for Native Instruments Kontakt.
Acoustic Guitar 2.0 is a huge 5GB acoustic guitar library for NI Kontakt by Pettinhouse. This incredibly realistic and playable acoustic guitar library includes both strummed, fingered and picked patches along with every articulation you could possibly think of (its insane!).

The library also includes an equalizer, effects, and a HUGE range of articulations (slides, hammer-ons, palm mute, harmonics, up strokes, down strokes, trills, stopped notes, release noises, fret noises, hand noises, strum noises). Check out the video and demos to see just how good this beast is! Full version of Kontakt required (not compatible with free player).
The library is available to purchase from VST Buzz for $59 USD until December 31st, 2013.
More information: VST Buzz