Following up on 4 audio elitist rules you should question, Edvīns Rakickis is back with an article on common mistakes engineers make when recording vocals.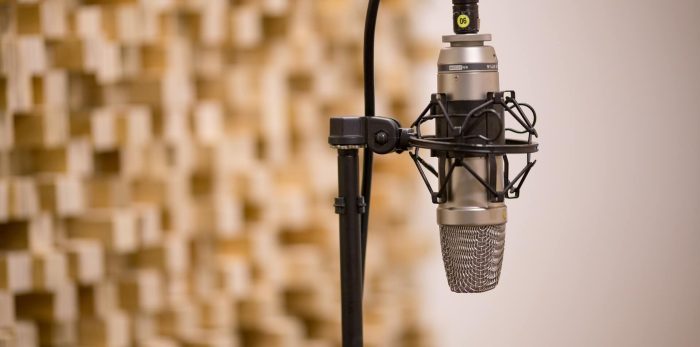 One of the worst things a recording engineer can do is record a great performance badly. In such cases the results of the recording session are often blamed on the performer while the real culprit – the one behind the mixing desk remains unnoticed by the people present during the session as well as the average listener. But musicians talk, and nothing can hurt your reputation more than obvious (or audible) negligence.
Assuming the role of a recording engineer means taking responsibility, both when working with novices who need a lot of guidance and seasoned professionals capable of doing one great take after another.
Skipping the "forgot to press "Record button" (has happened to the best of us), let's take a look at some of the most common mistakes that can easily occur in a typical vocal recording session and tips on how to avoid them, provided by engineers from Violet microphones.
Don't bother finding the right microphone
The saying about a bad workman who blames his tools does not always apply in the recording studio. A typical studio microphone is a special kind of tool in the sense that it does not always reproduce the exact sound coming from the singer – nor is that always the goal.
There are many types of microphones and most of them add "color" to the sound in one way or another. Artistic concepts, particular target audience, style and other similar aspects determine the type microphone you need and selecting the right one right away is essential.
If you are serious about your trade, do discuss this with the artist and make sure you are both on the same page.
If you are lucky and have a decent collection of various types of microphones, more experimenting can be done until you find the right mic. However, if your budget limits you to one tool – make sure you do your research and consider all aspects of the purchase.
When it comes to microphones, versatility does not always mean generic, but try investing in a quality product. It will pay for itself, provided you take good care of it.
Since we do live in a time when nearly everyone can set up a web shop and organize international shipping, consider choosing small, boutique manufacturers, known for making quality gear over mass-produced cheap equipment, often advertised as "versatile & affordable".
Forget to do your prep work
As the engineer, manager, commander-in-chief or maybe even the owner of the studio it is your duty to set things up well before the singer has arrived so you can welcome him in a professional environment.
This is even more important if you are expecting an inexperienced or unfamiliar performer – no one needs to see you dragging wires, carrying units, bending your back and doing check-ups. In their eyes you are here to facilitate an artistic process not to install those new monitors you got yesterday, microphone stands or other stuff.
Speaking about monitors – this is one thing you really must not forget to set up beforehand. Make sure you have an appropriate monitoring available for both you and the performer.
Not everybody can own a top-shelf system but you sure can set the volume right on the gear you have. Sometimes the reason behind the performer going out of tune or rhythm is that they can't hear themselves, the track or maybe both.
Ask repeatedly if everything is alright with the volume and encourage the singer to take his time when addressing such problems.
Disregard gain structures
When the recording chain is set up, be sure you have set the gain structures right. This is fundamental and absolutely essential.
If you're working with lower gain than necessary you'll have a certain amount of hissing. Go too high – you'll have sound clipping.
Both of these outcomes mean that you are not ready to do a quality recording of anything at the moment. The latter was not always that big of a threat in the world of analogue pre-amps and tapes but things are quite different with digital gear.
Fail to manage the performer
Recording vocals means controlling a quite unstable situation. The voice itself is a very dynamic sound source and keep in mind that the performer is a human being.
Some singers can be prone to articulation, movement and other such habits when singing. This can mean that they are giving 100% of their soul to the task at hand but to the engineer it can also mean varying distance from the microphone.
The goal here, after all, is to get an even, stable recording, therefore as an engineer you should not look the other way or turn a blind eye if the singer is stomping his feet, jumping around or shaking their head – even if it means they are pouring their heart into the mic.
The movement can cause change in the vocal tone and ambient levels, all of which can be difficult to fix later on. Although a little rhythmic movement is probably acceptable, recording vocals and giving a live performance is not the same thing.
Just keep in mind that you need to find a way to address the issue as delicately as possible – do not go lecturing the excited performer about the nature of sound in the physical universe in the middle of his magic moment.
It is hard to give a good example or advice here, but it is very true that people skills are important, especially when working with artists.
A good start would be a simple "X" shape on the floor, made with gaffa tape before the singer has entered the booth. That way a simple heads up before you begin should be enough.
Forget to deal with plosives
The naked diaphragm of the microphone cannot deal with the plosive sounds on its own – even though all vocal microphones have a built-in pop-screen.
Because of the dynamic nature of the human voice, this is usually not enough to completely safeguard recordings from occasional pops (plosive sounds) – unwanted thumps created by singing letters "p" and "b". These wind blasts can shake the diaphragm of the microphone and can even be present when a fairly good distance from the microphone is chosen.
The best solution is to set up an extra stand-mounted pop-filter an inch or two in front of the microphone. This will serve as a second layer of protection and have no effect on the tone of vocals, provided you choose a good pop-filter.
Another way of dealing with pops is setting the angle of the microphone in a way that the singer is just a bit off-axis. In this sort of setup, the unwanted wind blasts will be projected above, below, or to the side of the diaphragm (depending on how you set the angle) and the unnecessary plosive sounds will not occur.
In conclusion
The moment you press the "Record" button, you put your reputation on the line.
Sure, this particular gig could not be "that important" but your work (or lack thereof) adds up and there is nothing more dangerous than a musician who has been wronged.
So be as prepared as you can be before you invite your client into your studio. A recording session that is paid for is not the time for you to test out new gear or software, install monitors and fix old cables or microphones.
Do that beforehand and don't dismiss basic rules such as watching out for plosives, setting up gain structure and managing the performer/handling the social side of this partnership. Remember – your success as an engineer depends on the results and the flow of the artistic process.