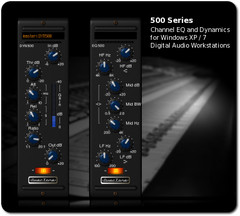 OverTone DSP has released the EQ500 and DYN500 effect plug-ins for Windows.
Styled as virtual API-500 format modules, the 500-Series bundle includes the EQ500 and DYN500, channel EQ and dynamics VST plugins.

The DYN500 provides soft-knee compression, and a gentle 'tape saturation' style overdrive when driven at high levels. The EQ500 provides a versatile three band parametric EQ. Both plugins are capable of mono or stereo operation and are designed to be economical with CPU resources and screen real-estate.
500-Series features
DYN500

Soft-Knee compression – Smooth transition from 1:1 compression below the threshold to that determined by the ratio control above it.
Tape saturation / Valve overdrive – Gentle analogue style overdrive when driven beyond 0dBFS.
Innovative, efficient DSP – Designed for 'one in every channel' usage, the DYN500 benefits from innovative CPU-efficient processing without sacrificing audio quality.

EQ500

Three band parametric EQ – Adjustable HF and LF shelves and fully adjustable mid-range parametric.
CPU efficient, high quality DSP – The EQ500 perfectly complements the DYN500 as part of an efficient high quality 'one in every channel' processing solution for DAWs.

User Interface

Physical Control Weighting – Replicates the 'feel' as well as the look of high quality rotary controls.
DPI-aware GUI – Automatically upscales for system settings above 96dpi, improving usability on a wide range of different screen sizes and resolutions.
Compact UI – Designed to be as intuitive and easy to use as traditional console channel processing, without adding unnecessary on-screen clutter.
The 500-Series plug-ins for Windows (VST) are available to purchase for £25 GBP each, or bundled for £40 GBP.
More information: OverTone DSP