5Pin Media has launched Shades of Techno, a soundset by Adam Pietruszko for the Little Phatty and Slim Phatty synthesizers from Moog.
The sound pack is the first in a new series that aims to bring musicians and producers the best in up to date sounds for popular modern hardware synths, spanning various genres and styles.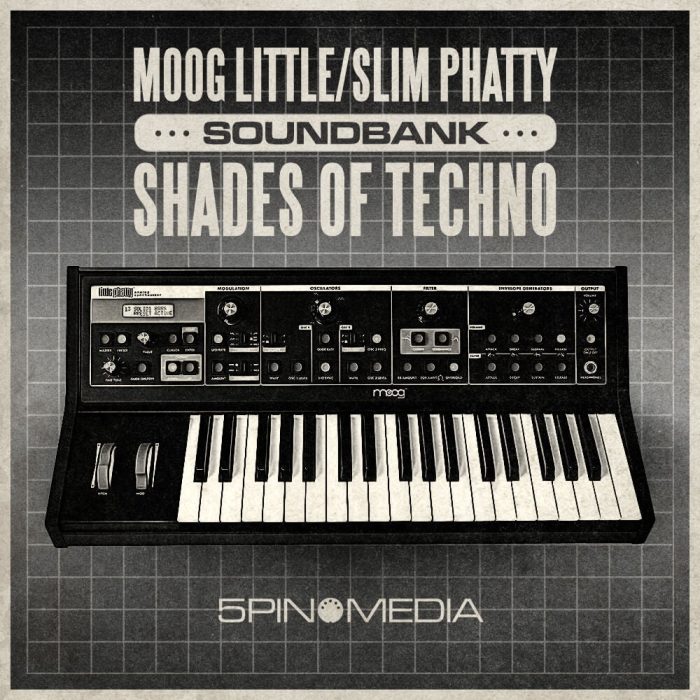 Many will undoubtedly remember and cherish the day they invested in their first hardware synthesizer and most likely have gone on to invest in further additions towards a prized personal collection. Few can argue against there being something, both mystical and magical, about the act of twisting knobs and pushing buttons to create sounds. Hardware Synths sales are on the up, with new affordable models being released regularly, so the time felt right for us to put our heads down and set about creating equally amazing affordable soundbanks for these marvelous machines.

Shades of Techno Soundbank comprises 100 Techno/Electronica Presets for Moog Little and Slim Phatty crafted by elite sound designer and audio engineer Adam Pietruszko.

Adam hails from Warsaw where he teaches synthesis and sound design at the Academy of Audio Engineering. At the the Polish-Japanese Academy of Information Technology his teaching covers sound synthesis, acoustics, electroacoustics, digital audio theory and music production. He has been a member of The Association of Sound Engineers in Poland since 2009. His journey in electronic music began in 2003 when he started spinning vinyl in Warsaw clubs, later turning to synthesizers and production. He is the creator of numerous award winning sample libraries and synthesizer soundbanks focusing on the field of cinematic effects, picture scoring and electronic music. He combines analog and digital synthesizer techniques with percussion and field recordings, as well as physical modeling and experimental audio creation. His works also include tutorial videos on synthesizer programming and sound design.

The soundbank contains 100 presets compatible with Moog Little Phatty Tribute/Stage I and II, Slim Phatty synthesizers. The presets are provided both as a whole soundbank, as well as individual patches, all in .syx format. You'll need a MIDI interface and a SysEx application to load the bank into your instrument.
Shades of Techno is available from Loopmasters for £14.95 GBP.
More information: 5Pin Media / Shades of Techno