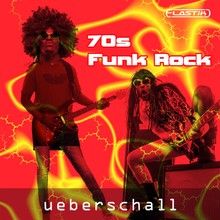 Ueberschall has announced the release of its 70s Funk Rock Elastik Soundbank.
This 3.3GB Library contains 20 construction kits with 1.965 loops. Each kit consists of up to six parts. Easily create conclusive arrangements using A-, B- and C-parts, breaks, intros and outros. The tempo ranges between 100 and 120 BPM and can freely be changed using Elastik-Player.

All kits have been performed in the classic Funk-Rock lineup: Rhythm-guitar, lead -guitar, electric bass, B3 organ, moog synthesizer, Hohner Clavinet D6 and a drumkit that is available as ready-to-use submix on the one hand, as well as elaborated mic'ed version with single tracks for all drums on the other. Find separate tracks for inner and outer miking of the bass drum, snare top and bottom tracks as well as overheads.

All instruments have been captured dry using highest quality converters at 24 bit and 44.1 kHz sample rate. No additional effects or dynamic processing has been applied, apart for the mixed loops. This way, all options to shape the sound lie at the users' hands. Use your personal tools to get your individual Funk-Rock-sound out of these timeless and iconic sound sources. Since this style is rarely produced these days, 70s Funk Rock is also the ideal source for authentic grooves. Almost like taking samples from your record collection. This makes the library not only suited for music production and composition of the Funk-Rock-genre but also for recent crossover styles, sample based tracks. Plus, it is equally suited for advertisement production, game-, film and TV-scores where 70's context is required.
The sound library (Elastik Player included) is available to purchase for 99 EUR.
More information: Ueberschall / 70s Funk Rock