Samples From Mars has launched a new drum machine sample pack. 727 From Mars features the sounds of the Latin Percussion brother of the TR-707.
The machine was recorded digitally, to tape, and played back at 30 different perfectly tuned semi-tones.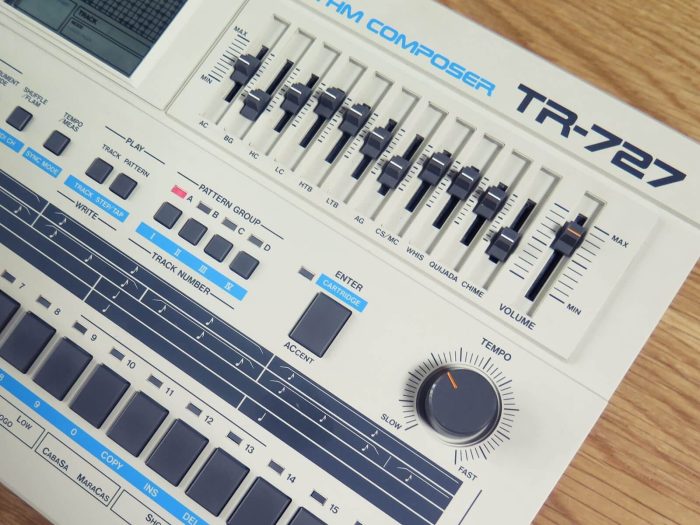 Like the 707, the 727 is extremely punchy, and to preserve this punch we captured its sounds as cleanly as possible – through an API 512 preamp straight to tape. The tape adds a noticeable analog punch and crunch, so we also captured the raw sounds, straight through our Apogee Symphony converter.

While the original sounds on this machine are pretty perfect, there is only one tuning offered per voice, greatly limiting the unit's flexibility. No matter what you do, you're stuck with "that 727 sound". Don't get me wrong, that sound is amazing, but it's not always what you're looking for. And while you could tune them digitally in your DAW, you'd likely lose the vibe of the hardware along the way.

To remedy this, we recorded each hit to tape at 15 ips along with a C note sine wave. Then, we played the tape back at 30 different speeds (from lower than 7.5 ips to higher than 30 ips), tuning that sine wave with a guitar tuner, to give you 30 perfectly chromatic pitches of every drum. The results mean you can get much more mileage out of these sounds.

The Quijadas, bells and chimes become crazy, elongated, dark percussion hits (add a delay and things get really insane). And the agogos, congas & maracas become less recognizable and more malleable to your own production. You can now harmonically tune any of the percussion without introducing unwanted digital artifacts.

We also created a couple custom hits – cutting into the cabasa to provide an additional, punchier version, and chopping the star chime to create a metallic ride.
727 From Mars features
1,102 24bit WAV TR-727 Samples.
Congas, Bongos, Agogos, Timbales, Maracas, Shakers & more.
4 Levels of flam for Congas & Timbales.
All original 727 sounds, unprocessed and un-pitched, are included.
Every drum hit has been additionally re-pitched 30 semi-tones on tape.
(10) pre-made 16x Hit Kits for instant jamming.
Ableton includes 1 master drum rack with all samples, with hardware pitch and hardware flam macros; 2 drum racks containing 10 pre-made kits.
Kontakt, Logic & Reason include: 40 total instruments: 36 individual hit instruments + 4 kit instruments containing 10 pre-made kits.
Maschine & Battery include: 10 pre-made kits.
MPC1000 & MPC2500 include: 10 pre-made kits on 3 MPC Programs.
100 MB Unzipped Per Format.
727 From Mars is available for $29 USD. A bundle with the Modded 707 is available at 16% off.
More information: Samples From Mars / 727 From Mars