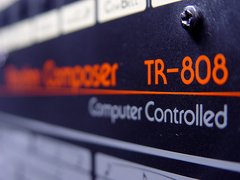 This just missed the random posts for today…
Colin @ experimentalists anonymous writes:
Today is a truly special day in music history. Not only is it 8/08, but it's also 8/08/08, which only happens once in a thousand years! For those of you who haven't caught on yet, 808 is the model number of Roland's famous Transistor Rhythm 808 drum machine. So let's take a day to celebrate the awesomeness that is the 808!
Visit the blog post for a link to download Colin's TR-808 sample collection.
Tom Whitwell @ Music Thing posted a bunch of links in celebration of 808 day. His Tape 808: $19 gets you the best 808 sample set ever link gets a +1 from me. Read my review of Goldbaby's lovely samples here.