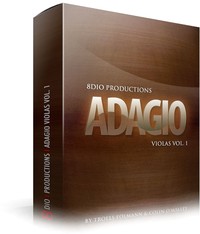 8Dio Productions has announced that its upcoming Adagio Violas Vol. 1 sample library is now available to pre-order.
The third installment of our highly acclaimed Adagio series is finally ready for pre-order. The Adagio Violas contain three main groups of Violas: Full Ensemble Violas (7), Divisi Violas (3) and Solo Viola (1).

All groups have been extensively sampled. The library is at around 20+ GB in its current stage and will be very similar in size to the Violins and Cellos. As always they were recorded in our signature church environment with a hand-selected group of great viola players from the San Francisco Bay Area.
The Adagio Violas Vol 1 library is available to pre-order for the introductory price of $249 USD until May 1st, 2013 ($299 USD regular). The release is scheduled for March 22nd, 2013.
More information: 8Dio / Adagio Violas