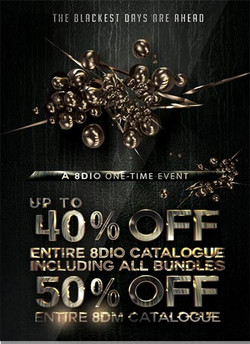 8Dio Productions has launched a Black Friday Sale, offering up to 40% off its libraries and bundles.
First of all thank you for a magical 2014. Your on-going support and commitment to our products allows us to constantly advance our products and achieve new marks for sample-realism.

We want to return the favor by offering the biggest sale in the history of 8Dio – with up to 40% Off All 8Dio Products AND Bundles! The 8Dio Bundles are already discounted, so you can get more then 70% Off Products by using the discount code with the bundles. Totally Cray-Cray – we know!

This is the biggest sale we have ever had and there won't be anything like it in the foreseeable future.
The sale ends on December 1st, 2014.
More information: 8Dio