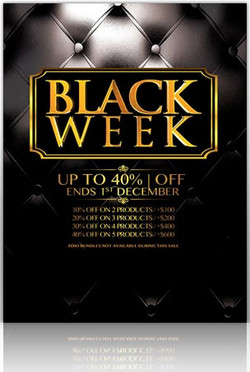 8Dio Productions has announced its Black Week Sale, offering up to 40% off all its products.
The Black Week is here – which is the single biggest sale we will be having for a long time.

Just add your favorite 8Dio instruments to the shopping cart and use the discount codes below.

The offer only lasts till December 1st 2013. ♥ 8Dio.
8Dio Black Week Sale
40% off on 5 products or more.
Minimum of $600 in value. Discount code: thankyou40
30% off on 4 products or more.
Minimum of $400 in value. Discount code: thankyou30
20% off on 3 products or more.
Minimum of $200 in value. Discount code: thankyou20
10% off on 2 products or more.
Minimum of $100 in value. Discount code: thankyou10
More information: 8Dio