8Dio Productions has announced the release of Studio Saxophones, a virtual saxophone instrument for Kontakt featuring dozens of advanced and unique playing styles and articulations.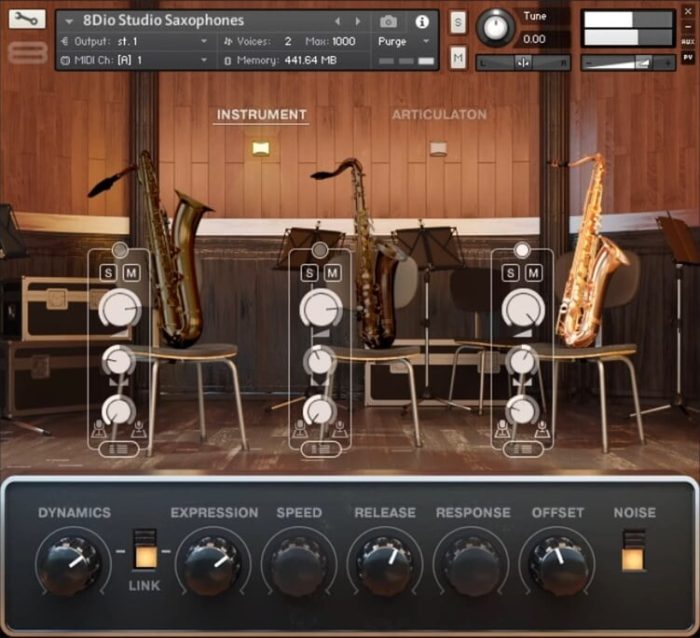 Following the critically acclaimed Intimate Studio String Series, Studio Saxophones continues on from the concept of ensemble building, allowing you to audition and build your own saxophone sound, from a full 3 piece ensemble, to individually recorded soloists, each with their own sound and emotion.
Comprising of over 108 hours of sessions and utilising only the best in modern recording and isolation technologies, we where able to capture multiple players simultaneously. This ensures that all articulations seamlessly blend between each player and allows you to truly mix and match, creating your very own sound.

8Dio Studio Saxophones gives you direct access to dozens of advanced and unique playing styles and articulations, full host tempo sync (relevant articulations only), the ability to control your desired soloist, the ability to access multiple advanced mixing parameters and all in one streamlined and refined package. Studio Saxophones is the next step in a new journey to deliver the highest calibre of players in the most advanced virtual instruments to date.
Studio Saxophones features
12 GB compressed to 7 GB of content.
Deep-sampled studio saxophones with advanced per instrument control.
baritone saxophone and two individual tenor saxophones.
Full per instrument mixer.
Advanced layered legatos.
Tempo synchronised & measured articulations.
Fluent microphone control between near-field and ambient positions.
The library is available for Kontakt 5.6 or higher (full version) at the intro price of $148 USD until March 1st, 2019. The regular price is $248 USD.
More information: 8Dio Productions