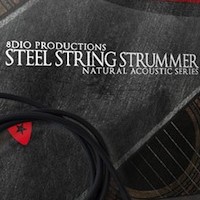 8Dio Productions has announced Steel String Strummer, the upcoming sample library for Native Instruments Kontakt.
Steel String Strummer is a deep-sampled collection of steel string strums and contains over 4.000 strum variations, including 13 different rhythms and 13 different chords recorded with natural round robin variation.
8Dio has also launched a "Tonal Thursday Sale", offering its Hybrid Tools library at 30% off.
Grab a copy of our Hybrid Tools Vol. 1 (just $174) or Hybrid Tools Vol. 2 (just $209) at 30% off for – the offer only lasts till February 1st! All you have to do is add the libraries to the cart and the discount will happen automagically.
Hybrid Tools Sale
Hybrid Tools Vol. 1 is a hyper flexible and intuitive scoring tool designed to give a modern sound to your compositions. The instrument contains 38 different core banks of hybrid scoring tools from hybrid rhythms to transforming metals, motion picture boom drones to sick, sick mega-horns, cinematic synths to impacts, phat downers to wild risers, crescendo and decrescendo FX, screaming distortions etc.
Hybrid Tools Vol. 2 is the next evolution in contemporary musical sound design – a tool created for both composers and sound designers. The tool is specifically designed to give you that hybrid/modern sound to your compositions. The instrument contains a variety of core banks from the biggest mega-horns ever made to our new psychological signature sounds that just burns in your brainstem. We created some insanely big percussive rolls, which are awesome for transitions and a cool assortment of those trendy Dubstep Trailer FX.
More information: 8Dio Productions