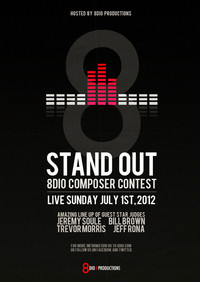 8Dio Productions has announced its first annual Stand Out composer contest, a competition seeking to showcase the exemplary and innovative musical talents of composers from all over the world.
Compose an original piece of music (no remixes please!). You may use any tools, instruments and/or software instruments at your disposal to create this piece but you have to use and highlight at least one 8Dio product.

Our team of guest star judges Bill Brown, Trevor Morris, Jeff Rona and Jeremy Soule will judge the submissions and pick the final three grand prize winners.
Stand Out prizes
1st Place Winner: New (2012) Apple iPad + $500 in 8Dio Products.
2nd Place Winner: $500 in 8Dio Products.
3rd Place Winner: $250 in 8Dio Products.
All submissions must be sent no later than Wednesday, July 25th, at 11:59 PM PST.
More information: 8Dio Production