8Dio Productions has launched Intimate Studio Strings, a deep-sampled string instrument library for Native Instruments Kontakt.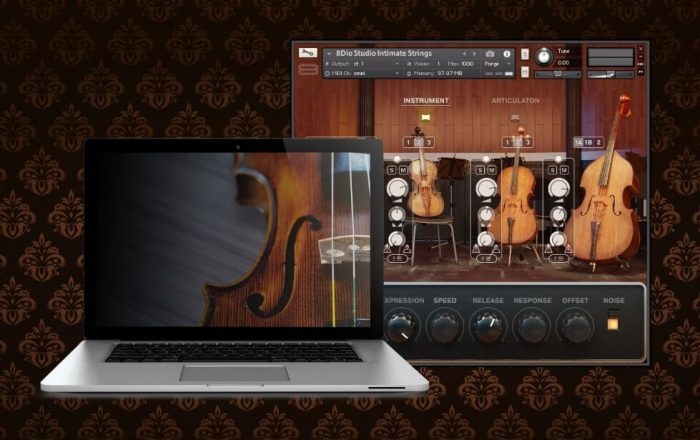 Comprising of over 500 hours of sessions the Intimate Studio Strings series marks 8Dio's commitment to pushing boundaries not only in technologies but also in advanced techniques to achieve a modern, playable and fully customizable studio sound.

Utilising new and truly unique isolation technologies we were able to capture multiple section sizes ensuring all instrumentation seamlessly blends, giving you the ability to mix, match, pair and combine up to 256 instrument combinations.

8Dio Intimate Studio Strings gives you have direct access to dozens of advanced and unique playing styles and articulations, full host tempo sync (relevant articulations only), the ability to control your section size, the ability to control each sections volume, routing, panning, and even distance/perspective in the stereo field. All in one streamlined and refined package.
Intimate Studio Strings features
113GB compressed to 45GB of content.
True Deep-Sampled Studio Strings.
Advanced Section Control. Over 256 String Size Combinations.
Deep-Sampled Violin (s) (1, 2a, 2b, 3a, 3b, 4 and 5).
Deep-Sampled Viola (s), Cello (s) and Bass (es) (1, 2 or 3).
Full Mixer for each instrument and section.
Advanced Layered Legatos w/ dynamics.
Ostinato Measured Portato, Tremolo and Legato w/ dynamics.
Fluent microphone control between near-field to entire studio.
Intimate Studio Strings for Kontakt 5.7 or higher (full version) is available for the intro price of $188 USD until November 1st, 2018 (regular $298 USD).
More information: 8Dio Productions