8Dio Productions has announced the release of Studio Percussion Orchestral, an instrument library for Native Instruments Kontakt, featuring a collection of six orchestral percussion instruments: Marimba, Glockenspiel, Xylophone, Vibraphone, Crotales and Tubular Bells.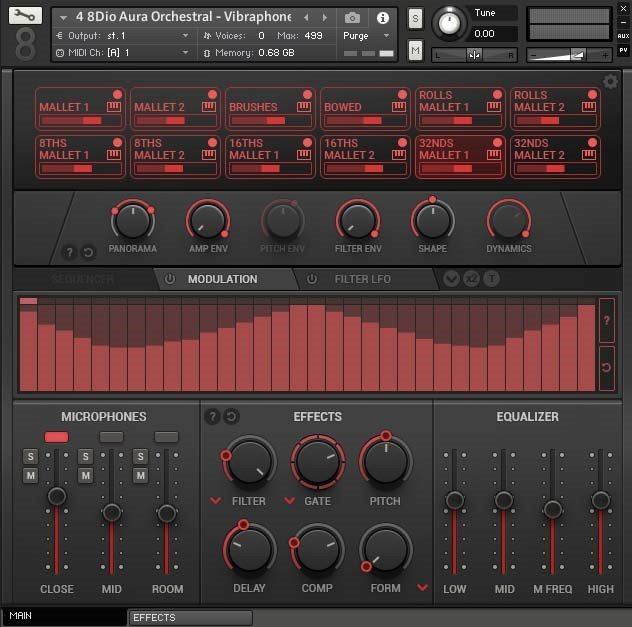 Deep-sampling is a sampling method Troels invented many years ago. The idea was to sample instruments in such great detail – and with so many options – that we never had to record them again. A win-win for both you and us.

Studio Percussion Orchestral is exactly that. The most comprehensive collection of deep-sampled tonal percussion instruments ever created. First of all we hand-picked all the instruments (Marimba, Vibraphone, Xylophone, Glockenspiel, Crotales and Tubular Bells) and found the best models available.

Secondly we actually recorded them all with two different types of mallets (Soft/Felt and Harder/Wooden). We also recorded all of them with brushes and in most cases, we also bowed them, so you virtually have every type of mallet choice at your finger-tips. We designed a custom user-interface. So easy!

But equally important we applied our Groove Sampling™ method to the library. This means that you do not only have all the multi-samples you've come to expect, but also an entirely different sample set of Groove Samples – allowing you to create completely life-like percussion. You have to see it to believe it.

Long story short. Studio Percussion Orchestral is a culmination of over a years work. The library contains over 23.000 samples that have been meticously edited and programmed for a superior and intuitive sample experience.
Studio Percussion Orchestral features
23.120 Samples. 14.82GB (compressed from 30GB+).
3 Microphone Positions (Close, Mid, Room).
Deep-Sampled Marimba, Vibraphone, Xylophone, Glockenspiel, Crotales & Tubular Bells.
New Patent Pending Groove Sampling™ Technique.
6 Instruments and multiple articulation & mallet types.
New Front-Face FX and Mod-Sequencer.
Product only available as Direct Download.
Studio Percussion Orchestral for Kontakt 5.5 or higher (full version) is available for the introduction price of $149 USD until February 15th, 2017 (regular $249 USD).
More information: 8Dio Productions / Studio Percussion Orchestral