8Dio Productions has announced Studio Suspended Non-Tonal Edition, a percussion instrument library for Kontakt featuring a collection of 41 deep-sampled non-tonal instruments designed for cinematic pulse scores.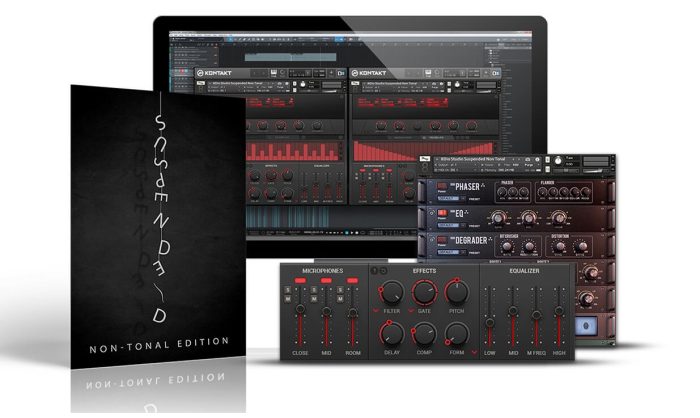 All the instruments were recorded fully suspended in strings – to maximize their vibration. By letting the instruments hang unobstructed and free in the air, you allow them to fully vibrate. Even heavy objects such as huge industrial glass panes or ceramic conicals, to vast metal sheets and prepared cymbals will fully vibrate. Becoming much more musical in both tone and character. In addition to this, we recorded all the custom instruments with different mallet types (ex. Brushed, Felt, Traditional, Hand) and everything was recorded both as multi-samples and with our new patented Groove Sampling method.

All the custom built and suspended instruments were sampled with an extensive set of options. Including the option to choose from up to 4 individual mallet types, all with round robin variations and multiple dynamics.

But equally important we recorded all the instruments with our new Groove Sampling™ method. Groove Samples allows you to play the instruments in ways you cannot with traditional multi-samples. The samples give a completely fluent and natural sound in the percussion. We recorded the Groove Samples in three different tempos and multiple velocity layers per tempo. There is really nothing like having the true acoustic pattern and flow of a performances groove with this patent pending method, proprietary to 8Dio's sample collections.
Suspended Non-Tonal features
41 New Suspended Instruments.
3 Truly Independent Microphone Positions (Close, Mid, Room).
23 GB (Lossless compressed at 24 bit/48 kHz).
8,500 Samples.
Multiple Mallet Types.
Multi-Samples with Round Robin And Dynamics.
Recorded at 3 tempo sync'd time divisions (8ths, 16ths, 32nds).
Suspended Non-Tonal for Kontakt (full version) is on sale for $179 USD until September 20th, 2017 (regular $249 USD).
Also released is the New Bowed Piano, a Kontakt library dedicated to the deep sampling of bowed and FX based Grand Piano.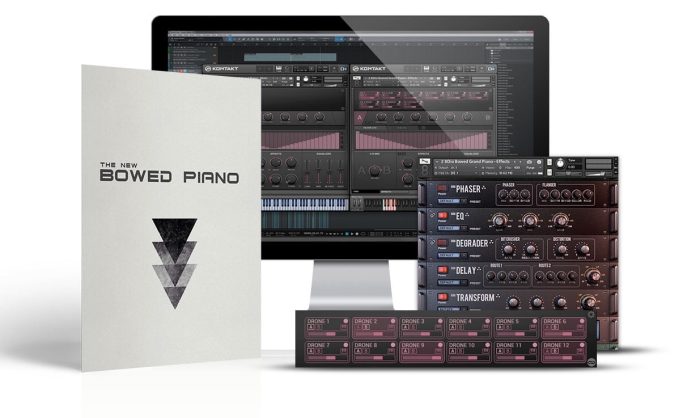 The bowing of a piano is a delicate and precise effort. Since the instrument is not designed to be bowed we developed a variety of new recording techniques that allowed us to get deep inside the piano and record a variety of bowings and FX that haven't been covered in previous libraries.

The library is more ambient than any of our other pianos. The concept of bowing a piano tends to go into the more ambient and drone design direction. We bowed every single string on a world class grand, including both sustains and staccato notes. There are no half measures to capturing full and deep emotion.

We then proceeded to capture a variety of ambient recordings and started developing an entire drone section of the library. Entirely based on source material from the piano itself. In addition to this, we added a vast FX section to the library. Containing a large array of string glissandos, scrapes, scary knocks and various percussive FX.
New Bowed Piano features
Emotional Bowed Piano /w true Round Robin Repetitions.
New User-Interface & FX Chaos Engine.
12 Bonus Sound Design Drones.
Traditional Bowed Piano.
Sustains & Staccato (w/ RR).
9 Deep Cinematic Prepared FX Categories (Glisses, Knocks, Scrapes FX).
12 Bonus Sound Design Drones & Ambiences.
1.24 GB (lossless compression, 24bit/44.1kHz).
The New Bowed Piano for Kontakt 5.5 or higher (full version) is $49 USD until September 14th. Regular price is $69 USD.
More information: 8Dio Productions