8Dio Productions has launched its new Soul Series product line representing the musical spirit of highly acclaimed artists with the release of Christopher Young – The Collection.
Comprising the Orchestral Touch and Textural Worlds Kontakt instrument libraries, the collection features organic textures from acclaimed composer Christopher Young (Hellraiser, Spider-Man 3, Sinister, Swordfish, Ghost Rider, The Rum Diary etc).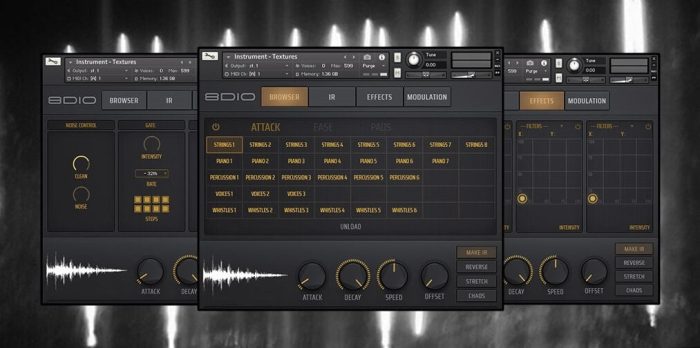 Christopher Young has a beautifully unique way of approaching scores – both by working with orchestras and performers, but also by weaving musical sound design and textures into his music. We've worked with Christopher Young over the last 18 months – curating over 35 years of recordings and sonic experiments. The end result is an incredible collection of organic textures and pro-grade scoring tools.

8Dio Soul Series – Christopher Young – contains two different libraries. Textural Worlds and Orchestral Touches. Textural Worlds contains thousands of unique soundscapes and organic effects. The sound sources vary from traditional instruments like strings, pianos, flute to more exotic instruments like whistles, modified toy instruments to a large assortment of vocal and otherworldly textures. Orchestra Touches is a large collection of orchestral effects – specifically composed and designed by Christopher Young. This collection contains both libraries.

8Dio designed a new, advanced user-interface for the Christopher Young libraries – offering a wealth of novel features. Perhaps the most prominent is our new IR-engine (impulse response engine). The IR-engine offers you the ability to make any sample in the library into a convolution impulse. The impulse can then be superimposed on any other sample in the library. In addition, user-interface also includes instant stack, reverse, stretch, off-set and chaos functions. The library is also first to feature our new Chaos 4.0 system, which allows you to create any FX chains of your own choice.
Christopher Young – The Collection features
16,681 Samples. 39.8GB HDD (19.9GB compressed).
Up to 7 Mic positions (Decca, Wide, 5 Spot Mics).
Material curated from over 35 years of Young's lifetime work.
Includes both Textural World and Orchestral Touch libraries.
Strings, Piano, Percussion, Voices and Whistle Patches.
Arcs, Shorts and Effects Patches.
28 In-House Custom Presets.
Reverse, Stretch and Chaos Control.
Chaos Effects 4.0 – w/ ability to custom design FX rack.
Inbuilt IR, Effects and Modulations.
Full Retail version of Kontakt 5.7 or later required.
The collection is on sale for the intro price of $248 USD until November 1st (regular $398 USD). Orchestral Touch and Textural Worlds are also sold separately for $148 USD and $198 USD, respectively (regular $198 USD and $298 USD).
More information: 8Dio Productions