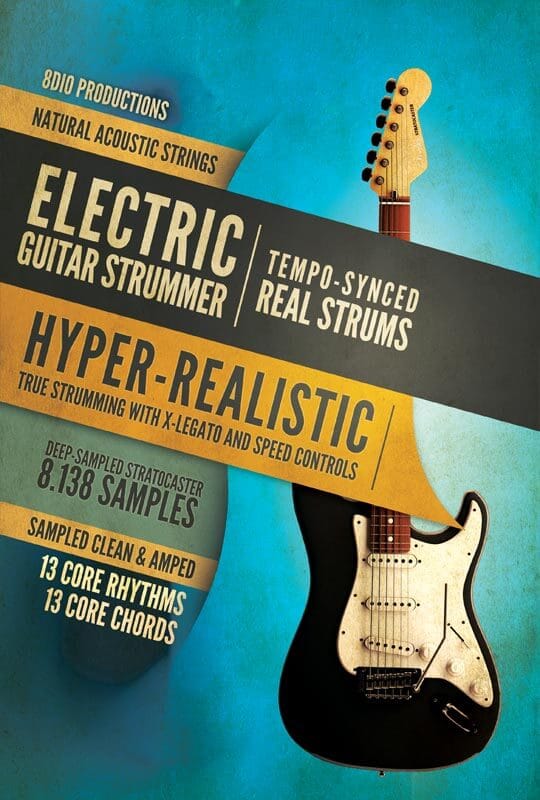 8Dio Productions has announced the release of Electric Guitar Strummer, a virtual guitar instrument for Native Instruments Kontakt.
Electric Guitar Strummer VST is the follow-up to our Electric Guitar Solo library. Electric Guitar Strummer contains over 8.100 samples spread across 13 different chord types and 13 different rhythm types and utilizing our powerful x-legato technology, which allows you to blend any chord and rhythm at any time giving you an infinite amount of options. Electric Guitar Strummer is also round-robin based strum library, so even if you trigger the same chord/rhythm multiple times – you will get natural subtle variation. The Guitar also comes with both clean (DI) and amped signals, so you can blend and mix to your liking.

Electric Guitar Strummer contains all the classic chords (ex. Major, Minor, Maj7, Min7, Dim7, Dom7) used in traditional songwriting, but also contains more elaborate chords (ex. Maj7B5, Min79, Dom7#9, Sus2, Sus4, 11s Alt Bass and Add11Alt2). The rhythm section is equally deep from traditional type of strum rhythms to more genre specific ones (ex. country, fingered arped, muted chugs). In addition we also recorded muted strums of all rhythms, which gives additional options to design new types of rhythms. Electric Guitar Strummer also contains intelligent fret noises and velocity based end chords, which allows you to make a natural ending to a chord progression by playing hard on keyboard.

We also integrated our Chaos FX 3.2 (ex. Stereo Delay, Verb, Screamer, Lofi, Dual-Convolution) into the patches, so you can trigger live FX on top of the patches by using key-switches. We also integrated a dual convolution reverb containing deep sets of both FX and normal based set of convolutions.
Electric Guitar Strummer is available for the introductory price of $99 USD until March 15th, 2016 (regular $139 USD). The library is also included in the new Electric Guitar Bundle Solo & Strummer, priced at $199 USD.
More information: 8Dio Productions