8Dio has announced the release of Hammond Vintage Organ, a Studio Vintage Series instrument for Kontakt that offers a faithful representation of a B2 – B3 Hybrid Hammond Organ.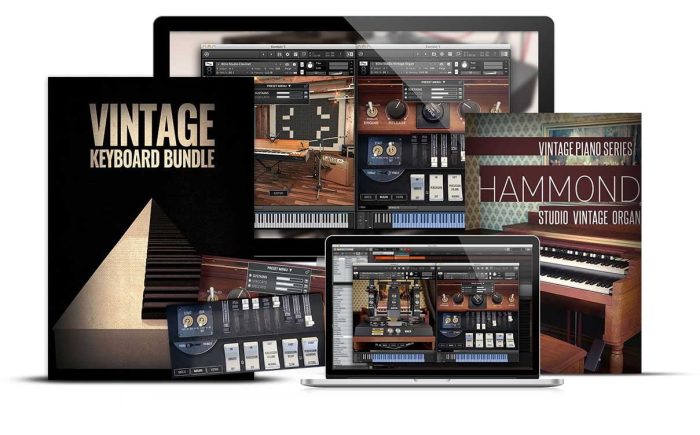 Having toured with some of the industries finest musicians and featured on a magnitude of headline festival stages, this work of art deserved to be archived and available for all to play.

This hybrid Hammond® Organs tone and color are indicitive to the era. With a timbre so raw and pure it is simply unmatchable.

While many other attempts at capturing factory standard Hammonds® in the past featured heavily on the Direct signal (D.I). We instead purposely chose to record the Organ in it's natural state. Using vintage and immaculately maintained Leslie cabinets. In fact we used two independent Leslie's, (and blew up a third). One to capture the genre defining rotations at all speeds, and another with a modified motor to record the pure unhindered tone of the Leslie itself.

Both of these Leslie's are available within the 8Dio Vintage Organ. "Analog" showcases the natural acoustics of the Hammond® Leslie and its expressive spinning states. Whereas "Modelled" highlights the static, non spinning, pure timbre of the Leslie cabinet. Instead with a virtual rotation applied. This allows you to choose the tone and workflow that best suits you.
Hammond Vintage Organ features
40,500 Samples. 15 GB HDD (compressed from 35 GB).
2 available stems, for spot and room (incl. Neumann u87, Coles, Neve, AKG featured microphones on 2 individual vintage and pristine Leslie Cabinets).
2 Pro-Grade Reverbs (Bricasti and TC).
2 Authentic Analog D.I Signals.
Sustains, Staccato, Spiccato, Percussion (with RR).
Intuitive and Advanced 3D Controls. Advanced Chaos Effects Systems.
The new Hammond library is on sale for $129 USD until September 27th (regular $199 USD).
The instrument is also included in the Vintage Keyboard Bundle, which is on sale for $399 USD (regular $796 USD). This bundle includes the Vintage Hammond Organ, CP70 Electric Piano, Studio D6 Clavinet, and Rhodes 54 Piano.
Furthermore, 8Dio has recently released Hybrid Tools Neo, the ultimate production tool for high-end cinematic music, combined with the latest trends in EDM sound design.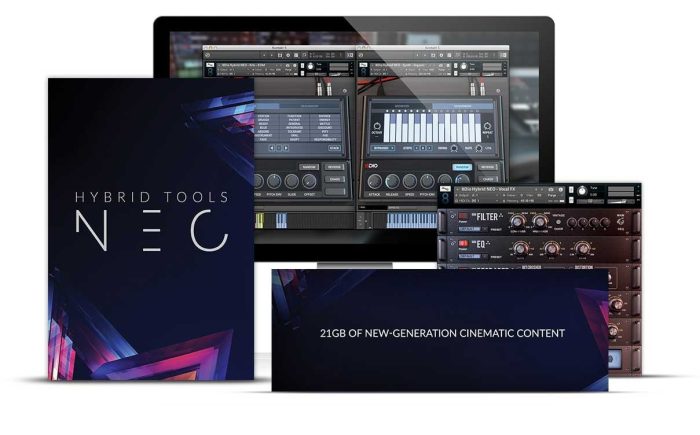 The library contains over 21GB and +9.000 samples of new content – designed by Academy, T.E.C and G.A.N.G Award Winning Producer, Troels Folmann.

NEO contains 11 new Hybrid FX Categories, Over 400 analog multi-sampled synths, 500 score elements, 200 world-class kits, including 50 Contemporary Cinematic Techno Kits, 50 Current Trap Kits, 50 Popular EDM Kits and 50 Nu-Disco/House Kits. 100 BPM-synced risers (1, 2, 4 and 8 bars). 100s of sound design cinematic EDM vocals and many other elements.
Hybrid Tools Neo features
21.1 GB of all-new hybrid content.
550 Next-Gen Cinematic Effects.
200 Modern Drum Kits. 200 BPM Risers.
300 Score Elements and 200 Cinematic Beats.
7.000 Analog Synth Samples & 100 Vox FX.
47 Scoring Presets.
Instant REVERSE, RANDOM, STACK and CHAOS features.
Hybrid Tools Neo is available for the intro price of $199 USD until September 21st (regular $299 USD).
More information: 8Dio Productions