8Dio Productions has announced the release of Lyre, a harp instrument library for Native Instruments Kontakt.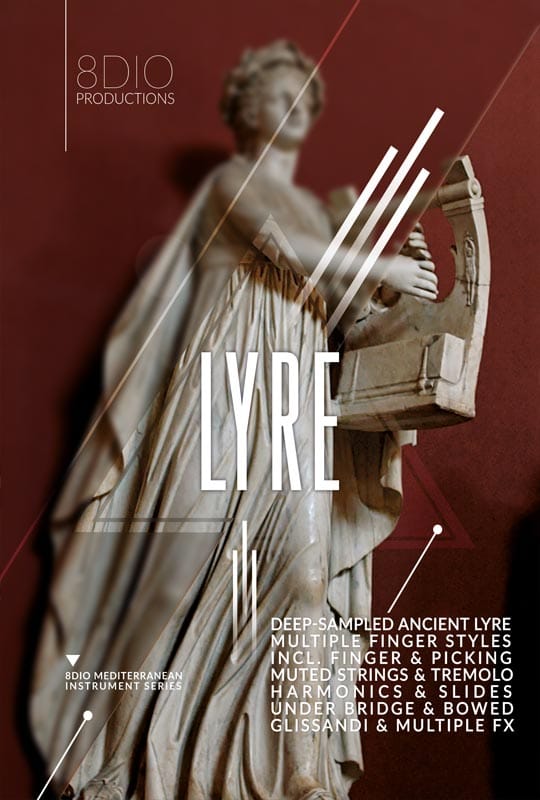 The Lyre is a ancient Greek Harp dating back to ancient Mesopotamia (2500BC). The earliest depiction of the a seven string Lyre was found in a sarcophagus in Crete (1400BC). The classical Lyre has a soundbox/resonator and extending from this are two raised arms connected with a cross bar. The crossbar has strings attached to it – essentially making it a primitive harp.

We deep-sampled the Lyre in a variety of finger positions, which each has a different attack and percussive quality, including Finger, Nail, Muted and Short Tremolo. The finger is more warm and soft – where as the nail and muted articulations are more pointy, percussive and defined. We also recorded 3 types of harmonics, slides, under bridge and bowed Lyre. In addition the Lyre also contains Glissandi FX, Bowed FX and Sound FX.

The Lyre was recorded with four microphone positions, including contact mics, inside close mics, semi-close and room mics. The end-result is a staggering +9.300 samples and the most comprehensive Ancient Lyre ever sampled. We also added our new micro-tuner, so you can get traditional middle-eastern tunings for Lyre.

Our CHAOS engine has also been added to multiply the textures and possibilities this library has to offer. We hope you enjoy using this library as much as we enjoyed making for you.
Lyre features
Deep-Sampled custom ancient lyre.
+9.300 Samples / 2.7GB (compressed from 6.2GB).
4 Microphone Positions (Contact, Inside-Close, Semi-Close & Room).
4 Finger Types (Finger, Nail, Muted and Short Tremolo).
3 Harmonic Types (1st, 2nd and 3rd Harmonic).
Slides, Under Bridge, Bowed.
Assorted FX (Glissandi FX, Bowed FX and Sound FX).
Advanced Microtuning Options Custom For Lyre.
Chaos FX 3.1 Engine.
3D Rendered UI.
Lyre for Kontakt is available for $59 USD. Requires full version of Kontakt 5.5 or later.
More information: 8Dio Productions / Lyre