8Dio Production has announced the release of its latest Kontakt instrument Supercluster, a library that allows you to make music with the sounds from space, literally.
Since the dawn of mankind, humans have looked up into the stars and wondered about everything the universe encompasses and most importantly, realizing how minimal we are in the timeline of existence.

As a tribute to mankind's race to space exploration and everything it has signified for our technological growth, 8Dio has created Supercluster, a sample library that is exclusively made with sounds from our universe. Play with the instruments of our planets, moons, and stars. Sculpt the sounds of asteroid belts and neutron stars, score with the core of our galaxy.

Supercluster is a direct line to the universe – its various processes and maelstroms of matter and energy are captured in the sounds here. From the darkest, menacing and deadly collisions, warps and distortions to gorgeous nebulae, beautiful planets moving on their orbits, cryo-volcanoes and amazing constellations – all of them found their places in this exciting sonic journey. Let yourself be immersed in the life of the universe and feel instant inspiration for new cosmic music!
Supercluster features
4.82 GB (compressed) of Universe samples.
Play Comets, Constellations, Exoplanets, Galaxy Cores, Suns, Nebulas, Neutron Stars, Pulsars and Quasars, Gravity, Rocket Engines, Andromeda, Quark Stars, Moon, Pluto, Mercury, IO and 100s others.
10 In-house custom presets.
TM-Pro Universe patch.
Built-in CHAOS 4.1 Effects.
Full Retail Version of Kontakt 5.8 (or later) Required.
Supercluster is available for $8 USD.
Those who purchase a copy of the sample library can also join the 'Score This: Constellations' scoring contest, in which you are to score the featured video with music featuring Supercluster for a chance to win three 8Dio instruments of your choice.
Also released is the Native African, Soul and RnB inspired New Forgotten Voices: Terrie solo vocal instrument library featuring internationally renowned, Terrie Odabi, a classically trained singer who studied under Gwen Brown, Bill Bell and the late John Patton.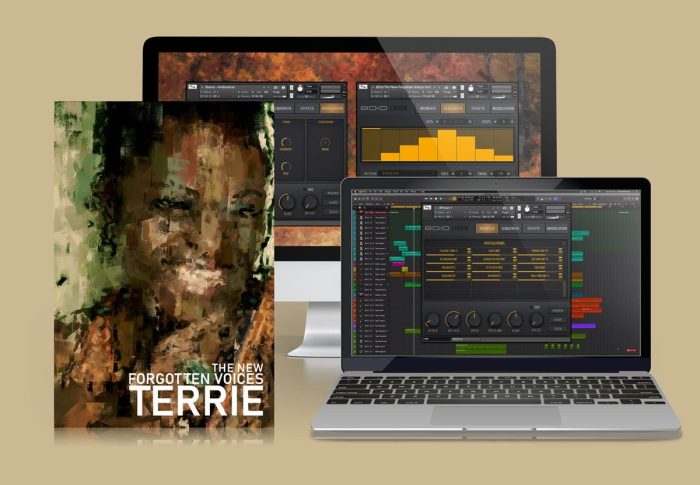 While travelling, Terrie started to gain interest in other cultures and languages from Latin to Spanish, to a variety of African and even Middle Eastern dialects. Her incredible depth and understanding of music cultures were the premise of this library, which covers several African dialects as well as Gospel, Soul, RnB and further experimental types of singing.

The New Forgotten Voices: Terrie contains an all-new yet familiar user interface, allowing you to access the wealth of phrases in the library quickly and easily. The New user interface also contains a range of effects and processing options allowing you to easily sculpt and adjust the phrases to fit your composition.

The library is split into multiple sections including African, Gospel, Scat, Vocal FX, Soul and our Bonus Ambiences. The patches in the upgrade are now all Time Machine enabled, allowing you to control the speed of the phrases.

The New Forgotten Voices: Terrie contains a unique set of custom vocal ambiences designed from her voice. These patches work perfectly in combination with the original phrases or can be used completely separately to enrich your score.
The library is on sale for the intro price of $38 USD until March 15th, 2019 (regular $78 USD).
More information: 8Dio Productions