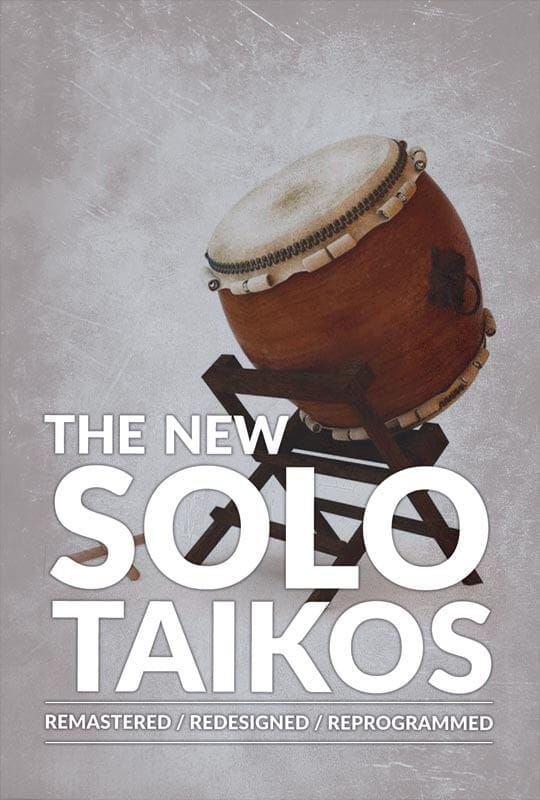 8Dio has announced the release of The New Solo Taiko, a Kontakt instrument library featuring a comprehensive and deep-sampled collection of individual Taiko Drums.
The library is a completely remastered, redesigned and reprogrammed edition of our original Epic Solo Taiko Drums. The library contains over 4.200 samples, two microphone positions, built-in articulation browser, internal step-sequencer, front-face FX, textural convolutions and our newest 3.4 Chaos Engine.

The New Solo Taiko Drums features the highly renowned Taiko Ensemble group: Emeryville Taiko lead by master, Susan Horn. The recordings lasted over a week, which allowed us to capture an unprecedented amount of content. We recorded a variety of Taiko drums, including the grand O-Daiko, 5 types of Chu-Daiko (medium sized Daikos), 4 types of Shime (Taiko snare drums) and wide assortment of extra articulations, including rimshots, clacks, different sticks etc. We even recorded the unique Tekkan, which is a metallic part of a cannon and recorded unique articulations playing with hands on the Taikos instead of sticks.

The New Solo Taiko Drums follows the same principles established in our other epic percussion libraries in terms of articulations, velocity layering and round robin. Articulations have up to 6 velocity layers and all sampled at 10 round robin (aka repetitions). We sampled all the classic Taiko drums from the big sounding, O-Daiko, Nagado Daiko to the smaller and more snare like, Shime. In addition we also played the drums with hands and alternative stick types – and we got the most comprehensive collection of clacks made with different type of sticks and by hitting the rims of the larger Taiko drums.
The sample library is available for purchase for $79 USD until May 15th, 2016 (regular $139 USD). Requires Kontakt 5.5.1 or later, full version.
More information: 8Dio Productions / The New Solo Taiko