8Dio has announced the release of the Ukulele Bundle, comprising the Ukulele Solo and Ukulele Strummer instrument libraries for Native Instruments Kontakt.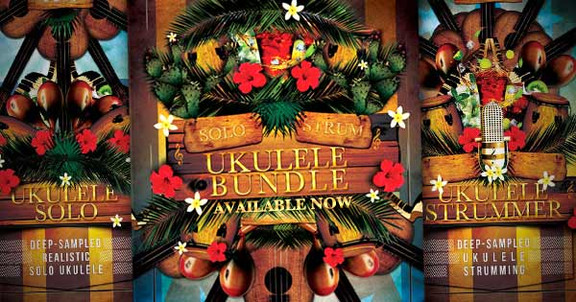 The Solo Ukulele contains over 2.200 samples and we recorded the Uku in great details, including hundreds of natural fret and release noises. In addition we also recorded natural strum samples, so you can play chords with natural true strum sounds. 8Dio Ukulele Solo comes with 15 core patches divided into Fingered, Thumber and Morphed categories. The fingered category was recorded with dedicated four-finger position for realistic sound for advanced playing styles (ex. arppegiations) – whereas the thumbed category has a slightly softer sound, which gives the Ukulele a somewhat softer, warmer character. The morphed category contains the Ukulele mixed with other instruments (ex. Grand Piano, Tonal Percussion and other modified instruments designed to match the character of the Ukulele.

Ukulele Strummer is the follow-up to our Ukulele Solo library. The Ukulele Strummer contains over 4.734 samples spread across 13 different chord types and 13 common rhythm types. All the chords and rhythms can seamlessly be blended using our x-legato technology. The X-legato system allows you to combine any chord and rhythm at any given time giving you an infinite amount of combinations. In addition the Ukulele Strummer is a round-robin based strum library, so even if you trigger the same chord/rhythm multiple times – you will get natural subtle variation. The Ukulele Strummer also contains chords in perfect 5th – allowing you to shape virtually any chord by combining it with our Ukulele Solo library.

The Ukulele Solo and Ukulele Strummer both contains our new CHAOS FX 3.0 system, which contains a variety of additional FX controls, including macro controls, filter, EQ, bit-crusher, distortion, new stereo delay and two separate convolution reverbs, Transform and Reverb. Transform adds experimental convolutions to your arsenal and Reverb contains a collection of superior impulses in case you want more traditional reverb. Everything comes integrated – one click away from your mastery.
The bundle is available for purchase for $149 USD.
More information: 8Dio / Ukulele Bundle